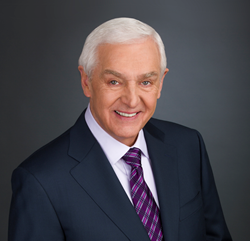 "As long as I stay true to the text, I am communicating God's Word…and God is speaking to us! My prayer for people who use this Bible is that God will help them fall in love with Scripture so His Word is written on their hearts." – Dr. David Jeremiah
Nashville, Tenn. (PRWEB) March 11, 2016
Since its release in 2013, Worthy Publishing has sold more than 340,000 copies of Dr. David Jeremiah's bestselling The Jeremiah Study Bible: NKJV which has provided transformative teaching to hundreds of thousands of people.
Now the New York Times bestselling author and founder of Turning Point, one of the largest syndicated Bible teaching ministries in the world, combines his bestselling study Bible notes with the most widely read Bible translation – the New International Version (NIV).
The result is The Jeremiah Study Bible: NIV (Worthy Publishing, November 2016) – a life-changing combination of Dr. David Jeremiah's applicable teaching and preaching insights with the readability of the most popular Bible translation today.
"More people read the NIV than any other version of the Bible," says Dr. David Jeremiah. "If you want to put the Bible in the hands of as many people as possible, you have to go where they are. The NIV is a good translation. It's one I read often."
Alongside the clarity of the NIV text, the teaching of Dr. David Jeremiah creates a greater understanding of the complete biblical message – as Dr. David Jeremiah says, "what it says, what it means and what it means for you." The result is a Bible that can be read and used by all Christians who want to grow in their faith by going deeper into God's Word.
The Jeremiah Study Bible: NIV, which will be made available in hardcover, genuine leather and LeatherLuxe® editions, will include:

Unique introductions – each of the 66 books of the Bible has a unique introduction to help readers understand the book they are about to read, as well as an overview of what it says, what it means, and what it means for their lives. Additionally, video introductions and other online content is located at http://www.JeremiahStudyBible.com.
8,000 individual study notes – teaching notes to supplement the NIV text and further help the reader better understand and apply the text that they are reading and studying.
500+ sidebars – positioned within the text these offer additional insight beyond the notes. A sidebar index for the entire Bible directs readers to the biblical topic of their choice.
60+ "Essentials of the Christian Faith" articles – in-depth articles to provide extended insights on key topics impossible to explore in notes or sidebars. The topics were personally selected by Dr. David Jeremiah to enable a closer study of important subjects and are useful for personal and group study discussions.
Teacher's topical index – intended as a tool for teachers and Bible students, a listing of the primary themes covered within the content of the Bible as well as key biblical references from both the Old and New Testaments on each respective topic is included.
Maps and charts – strategically placed throughout The Jeremiah Study Bible, these help readers better understand the geography of the Bible and other concepts that are better captured in visual form.
About the Author
Dr. David Jeremiah is the senior pastor of Shadow Mountain Community Church in El Cajon, California. Messages preached in the pulpit at Shadow Mountain form the basis of Turning Point, his international radio and television ministries. The outreach of Turning Point Radio and Television programs is now worldwide. Momento Decisivo, the Spanish edition of Turning Point is now heard in every country that has a Spanish speaking population. Thousands of responses to these ministries are received every day from people all over the world.  Dr. Jeremiah has authored more than 50 books. Among some of his most recent are: The Coming Economic Armageddon, I Never Thought I'd See the Day, God Loves You: He Always Has—He Always Will, What Are You Afraid of? Facing Down Your Fears With Faith, Agents of the Apocalypse, and Agents of Babylon. In 2013, Dr. Jeremiah published The Jeremiah Study Bible, a comprehensive yet easy-to-understand version that was over 40 years in the making. Dr. Jeremiah is much in demand as a speaker because of his commitment to the truth of the Bible and his special ability to help people understand how to apply biblical principles to everyday living. Dr. and Mrs. Jeremiah are parents of four children and grandparents of twelve.
Worthy Publishing Group (http://www.worthypublishing.com) is a privately held, independent voice in inspirational publishing, based in Nashville, Tennessee. Worthy has four imprints: Worthy Books publishes a broad spectrum of genres, including current events, pop culture, biography, fiction, spiritual growth, and specialized Bibles; WorthyKids and its Ideals imprint create colorful, interactive children's books, including VeggieTales and Berenstain Bears, for ages 2 to 8; Ellie Claire produces beautifully crafted journals, gifts and paper expressions; and Worthy Inspired publishes inspirational felt-need, personal growth, and devotional books.
###