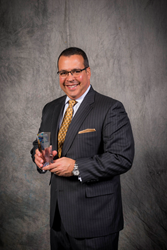 Chicago, IL (PRWEB) March 15, 2016
Bryan Kasprisin has been honored as 2015 Manager of the Year by the RE/MAX Northern Illinois real estate network. Kasprisin is general manager of the RE/MAX Ultimate Professionals offices in Shorewood and Plainfield, Ill.
Kasprisin has played a key role in the growth of RE/MAX Ultimate Professionals, and was especially saluted for his marketing and leadership skills. A resident of Joliet, Ill., he is also an active member of his community, working with a number of charitable organizations over the years and currently serving on the board of Easter Seals Joliet.
Entering the real estate industry in 1989, Kasprisin began managing his first real estate office in 1991 and spent much of his career with Coldwell Banker before joining RE/MAX Ultimate Professionals in 2014. He quickly realized it was a great fit.
"I wanted the opportunity to work with the best, and I certainly found that at RE/MAX," said Kasprisin. "What I enjoy about managing a real estate office is the opportunity to help brokers improve their professional performance, and I really have the opportunity at RE/MAX because the brokers are motivated to excel."
In fact, said Kasprisin, "the move to RE/MAX even gave a new spark to my own work as a real estate salesperson. I've always done pretty well, but last year, my first full year with RE/MAX, my sales were up 30 percent, and I attribute a lot of that to the great agents I'm working with now."
RE/MAX agents consistently rank among the most productive in the industry. In 2015, RE/MAX Northern Illinois agents averaged 18 transaction sides. RE/MAX has been the leader in the northern Illinois real estate market since 1989 and is continually growing. The RE/MAX Northern Illinois network, with headquarters in Elgin, Ill., consists of more than 2,250 sales associates and 105 independently owned and operated RE/MAX offices that provide a full range of residential and commercial brokerage services. Its mobile real estate app, available for download at http://www.illinoisproperty.com, provides comprehensive information about residential and commercial property for sale in the region. The northern Illinois network is part of RE/MAX, a global real estate organization with 104,000+ sales associates in 90+ nations.
EDITOR'S NOTE: RE/MAX® is a registered trademark. Please spell in all caps. Thank you. This release is posted at blog.illinoisproperty.com.