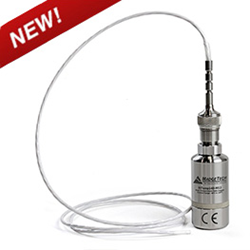 (PRWEB) March 14, 2016
MadgeTech's new M12-FP-RTD probe can be used for a wide range of applications. The flexible probe is easy to position and manipulate into vials or tight spaces, while accurately monitoring and recording temperature.
Coated in a durable PFA insulation, the probe can operate in a wide range, -60 °C to 260 °C. The M12-FP-RTD Probe design features knurling to allow for simple connect and disconnect to the HiTemp140-M12 data logger. The 36 inch, lightweight, flexible probe is ideal for applications such as lyophilization vials as well as steam sterilization inside autoclaves and tubing.
This probe can also be used with accessories such as the MicroDisc probe attachment for measuring surface temperatures.