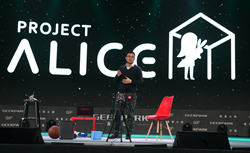 With this multi-faceted platform, clients working in the spheres of entertainment, manufacturing, design, marketing, and education have a complete simulation and virtual training solution.
Beijing, China (PRWEB) March 11, 2016
Noitom, the company which has been leading the motion capture industry with their adaptive and affordable Perception Neuron system, will be at GDC 2016 in San Francisco where they will be showcasing their latest product demos and presenting for the first time outside of China their new B2B virtual reality solution, Project Alice.
Noitom will be on the GDC expo floor inside the Moscone Center from March 16-18 where they'll be filling up the 10am to 6pm conference days with daily, pre-scheduled demo sessions at their booth number 602. Among the sessions will be the first presentation the rest of the world will have of Project Alice. Noitom's aim with Project Alice is to deliver a platform that gives the promise of physical object interaction, multi-user functionality and large walk space VR experiences.
"Project Alice is an endeavor I have been thoroughly dedicated to and I couldn't be happier to be finally sharing this concept with the rest of the world," says Dr. Tristan Dai, CTO of Noitom and head developer of Project Alice. "We have created something that has never before been an option for B2B initiatives. With this multi-faceted platform, clients working in the spheres of entertainment, manufacturing, design, marketing, and education have a complete simulation and virtual training solution that delivers high quality immersive environments at reasonable costs."
The key advantages of Project Alice as a B2B solution lies in its five essential precepts:
Multiple user interaction
Precise and low-latency hybrid tracking of HMD and physical objects
Large tracking dimension
Body and hand tracking in VR
Low cost
The Project Alice demo at GDC will allow participants to experience certain aspects of the platform's technology. Led by Dr. Dai, the demo participants will be given an HMD and a hand-held controller before being taken into the virtual universe where they will have the capability of moving through different scenarios within Project Alice.
Project Alice is being developed in association with several global partners. Hardware support is being provided by global PC leader Lenovo and graphics processor powerhouse NVIDIA. Software and content support is being developed in cooperation with Chinese media giant Alpha Animation, Swiss VR house Kenzan Studios and mobile phone technology innovator Smartisan.
"From the very beginning we have had the backing of some of the leaders in the industry both in China and abroad," says Dr. Dai. "Lenovo, Alpha Animation, NVIDIA, Kenzan Studios and Smartisan are committed to taking leadership roles in virtual reality and we are honored to count them amongst our friends and associates."
Perception Neuron will be at the Game Developers Conference at the Moscone Center in San Francisco from March 14-16, Booth #602. To schedule an in-booth demo, email contact(at)neuronmocap(dot)com with the subject "GDC 2016 Demo." For more information about GDC 2016, please visit gdconf.com.
To learn more about Perception Neuron, please visit neuronmocap.com. To learn more about Noitom, visit noitom.com.
Founded in 2011, Noitom Ltd. works with a team of dedicated engineers who develop world-class motion capture technology for consumer and industrial markets through the integration of MEMS sensors, pattern recognition, human kinetics and wireless transmission. Noitom is an international leader in innovative technology for use in animation, film, medical applications, robotics and gaming. Noitom is headquartered in Beijing with affiliate offices in Shanghai and Shenzhen. The company also has two US offices located in Miami and Scottsdale. For further information about Noitom and its services, please visit, http://www.noitom.com. For general inquiries, please email, info(at)noitom.com.