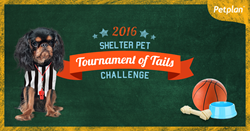 Tournament of Tails has grown into a platform that raises awareness and funds for both adoptable pets and the shelters who so selflessly serve them.
Newtown Square, PA (PRWEB) March 14, 2016
The players hail from every conceivable background and circumstance. But no matter their color, shape or size, freshman and senior alike have one thing in common: furry paws.
Thus the stage is set for Petplan's Tournament of Tails, in which 32 adoptable (and adorable!) dogs and cats will play for their share of nearly $11,000 in donations. The pet insurance provider's third annual tournament aims to raise awareness for shelter pets as well as the organizations that help them rebound from adversity and find forever homes.
Pet players will represent their respective shelters in friendly "nose-to-nose" matchups on the tournament's website. Each pet's picture and story will be featured on a "player card," which fans can view before voting for the pet they'd like to see advance to the next round.
Best of all, no pet is going home empty-pawed: those bounced at the "Terrific 32" receive a $100 donation for their shelters, while $200 will be donated for tournament runs ending at the "Spirited 16." "Eager 8" finalists receive $300; those who paw their way to the "Final Fur" net $500.
First round action tips off March 14, with subsequent rounds beginning March 22, 28 and April 1.
And with a tidy $5,000 sum on the line for April 4's championship matchup, every player in the tourney is a potential "Cinderella story" in the making.
Petplan co-founder and co-CEO Natasha Ashton feels equally proud and humbled: "Tournament of Tails has grown into a platform that raises awareness and funds for both adoptable pets and the shelters who so selflessly serve them." She adds, "We're happy to do our part, but the biggest win of all would be inspiring more pet lovers to open their hearts and homes to a shelter pet in need."
For more information about the tournament, pet players and to vote, visit the tournament website at http://www.gopetplan.com/tournament-of-tails.
###
ABOUT PETPLAN
Petplan is more than a pet insurance provider. We're dedicated to giving pet parents the support, resources and tools they need to keep their pets not just surviving—but thriving—into old age. Simply put, we aim to be the kind of company that will make our pets proud. For the third consecutive year, Petplan was listed among the top 50 of Forbes' annual ranking of America's Most Promising Companies – a list of 100 privately held, high-growth companies with bright futures. Petplan is the only pet insurance provider to have been included on Inc. Magazine's list of 500 fastest-growing, privately held companies in America.
Petplan's fully customizable cat and dog insurance policies provide comprehensive coverage for all hereditary and chronic conditions for the life of the pet as standard. Petplan policies are underwritten by AGCS Marine Insurance Company in the U.S. and by Allianz Global Risks US Insurance Company in Canada. The Allianz Group was rated A+ by A.M. Best in 2015. For more information about Petplan pet insurance, visit http://www.petplan.com or call 1-866-467-3875.