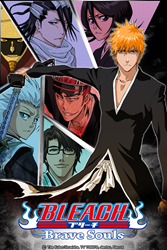 San Francisco, CA (PRWEB) March 15, 2016
Klab Inc., a leader in online mobile games, will be showcasing two of their most beloved games, Bleach : Brave Souls and Love Life! School Idol Festival at this year's Anime Boston exhibiting at booth 121 & 125. KLab presence will include game stations for hands-on gameplay, cosplayers and photo opportunities.
Attendees are invited to visit KLab at Booth 121 & 125 to experience gameplay first-hand and chat with KLab USA staff. Cosplayers will be bringing favorite Bleach and School idol festival characters to life and will be on-hand for photo opportunities throughout the show. Promo codes will be given to visitors, which can be redeemed for a variety of in-game prizes and bonuses.
Anime Boston will take place March 25 through March 27 at the Hynes Convention Center and the Sheraton Boston Hotel in Boston.
Bleach: Brave Souls is an intuitive 3D hack-and-slash battler featuring favorite characters from the series. The game retells the Bleach story as players create teams of three to complete quests. With a highly customizable character upgrade system, players will be able to create unique warriors by leveling, ascending, training, and linking. Players can also participate in weekly leagues and fight against other teams to win special prizes.
Bleach: Brave Souls is available to download for free worldwide on the App Store and Google Play.
App Store: https://itunes.apple.com/app/bleach-brave-souls/id1003168863?mt=8
Google Play: https://play.google.com/store/apps/details?id=com.klab.bleach&hl=en
School Idol Festival follows the story of the nine members of μ's as they train to become the best school idols. In addition to the main story, the game features challenges in which players tap along to the rhythm of popular μ's songs. Players will encounter and collect the different members of μ's throughout the game and will be able to build a custom group composed of nine members. To progress in the story, players participate in musical challenges that feature popular songs by the members of μ's. Players can also level up amassed members and unlock individual members' sidestory.
School Idol Festival is available to download for free on both iOS and Android.
App Store: https://itunes.apple.com/app/school-idol-festival/id834030294
Google Play: https://play.google.com/store/apps/details?id=klb.android.lovelive_en
###
About KLab
Founded in 2000, KLab is an industry leader in social mobile networking gaming in Japan. Employing over 800 people globally, the company is listed on the 1st section of the Tokyo Stock Exchange. KLab continues to grow at a rapid pace, expanding beyond the Japanese market with headquarters in Japan, and offices in Singapore, Philippines, Shanghai, and the United States. The San Francisco office, opened in April 2012, is looking to expand our global portfolio and make a splash in the mobile apps market.