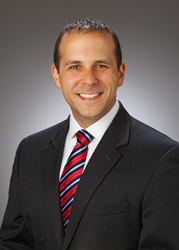 Noah is an integral component of our strategy to be the leader in tenant representation brokerage in 2016.
Houston, Texas (PRWEB) March 14, 2016
Savills Studley has hired Noah Kruger as managing director for its Houston office. Kruger will be responsible for cultivating and expanding business opportunities within the office and industrial markets.
"Savills Studley's tenant representation platform and unique entrepreneurial culture combined to create an ideal career move for me," said Kruger. "I am energized by the team's tenacity and client advocacy and look forward to successfully contributing to this stellar brand in Houston."
Kruger began his career as an architectural consultant with Hellmuth, Obata and Kassabaum for two years and spent five years with Dell, Inc. working in the Small and Medium Business division. He also garnered experience in Jones Lang LaSalle's research department, where he was the recipient of a NAIOP Scholarship for continuing education.
"Noah's comprehensive understanding of his clients' business objectives, in-depth market knowledge and LEED expertise have helped him deliver superb real estate solutions for his clients," said Steve Biegel, executive vice president and co-head of the Houston office. "Noah is an integral component of our strategy to be the leader in tenant representation brokerage in 2016."
About Savills Studley
Savills Studley is the leading commercial real estate services firm specializing in tenant representation. Founded in 1954, the firm pioneered the conflict-free business model of representing only tenants in their commercial real estate transactions. Today, supported by high quality market research and in-depth analysis, Savills Studley provides strategic real estate solutions to organizations across all industries. The firm's comprehensive commercial real estate platform includes brokerage, project management, capital markets, consulting and corporate services. With 27 offices in the U.S. and Canada, and a heritage of innovation, Savills Studley is well known for tenacious client advocacy and exceptional service.
The firm is part of London-headquartered Savills plc, the premier global real estate service provider with over 30,000 professionals and over 700 locations around the world. Savills plc is listed on the London Stock Exchange (SVS.L).
For more information, please visit http://www.savills-studley.com and follow us on LinkedIn and Twitter @SavillsStudley.