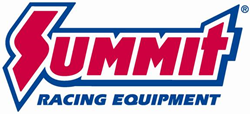 Tallmadge, OH (PRWEB) March 14, 2016
Summit Racing now carries Royal Purple HPS Street Motor Oil. This synthetic oil offers advanced wear and corrosion protection, and is well suited to the higher pressures found in a performance engine, providing a better seal between the piston ring and cylinder wall. This results in more horsepower and torque.
The secret is Royal Purple's advanced Synerlec® additive technology. HPS Street Motor Oil is fortified with a high level of zinc and phosphorus. This special formulation provides superior anti-wear characteristics for both roller and flat tappet cam motors with high-lift camshafts.
The oil's synthetic solvency reduces engine deposits, which cleans engine internals for increased economy and engine life. Exceptional oxidation stability allows for more miles between oil changes.
Royal Purple offers HPS Street Motor Oil in the following viscosities:

• 5W30

• 20W50
Summit Racing Equipment
http://www.SummitRacing.com
1-800-230-3030