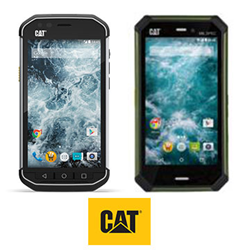 The Cat line of smartphones offer remarkable functionality, a durable design, while still maintaining the sleek and sophisticated look of a consumer smartphone.
Chandler, Arizona (PRWEB) March 15, 2016
Group Mobile, well known for carrying the top brands in rugged laptops, rugged tablet PCs, rugged smart phones, and rugged handheld computers has extended its product offerings to include the rugged and sophisticated Cat S40 and Cat S50c Android smartphones. The S40 and S50c rugged smartphones offer a unique take on rough and tough, ideal for standing up to any condition one may encounter while on the job site, in the field, construction zone, manufacturing plant and beyond.
Americans have spent over 5.9 billion dollars in damage repairs for their phones. With over 70% of the U.S. owning smartphones, the market for a more durable mobile phone option is at its highest. The Cat S40 and Cat S50c smartphones are designed to address these problems and appeal to the 85 million people working in construction and other tough environments globally, by combining rugged protection and exceptional performance while maintaining the looks of a sleek and stylish smartphone.
"We expect the Cat rugged smartphones to be very popular among our mobile workers in industries that require work to be done outdoors and in other challenging work environments, such as construction, public safety, and other field services, said Stephanie Kreitner, Executive Vice President of Group Mobile. "The Cat line of smartphones offer remarkable functionality, a durable design, while still maintaining the sleek and sophisticated look of a consumer smartphone."
The Cat® S40 features a very sturdy aluminum design and packs a vibrant 4.7-inch IPS LCD capacitive touch screen display designed to work with wet hands or while wearing gloves. The display is protected by Corning Gorilla Glass 4 for extra durability and to keep free from scratches and scrapes. The Cat S40 is an unlocked- GSM smartphone and is supported by most major U.S. GSM Open Carriers, for example T-Mobile and AT&T. It is backed by a powerful 1.1GHz Quad-core processor, Android v5.1 Lollipop operating system, 1GB RAM, 16GB internal ROM, and up to 64GB ROM expansion via the micro-SD card slot. Other valuable features on the Cat® S40 include an 8MP camera with LED flash, 2MP front-facing camera, 1080p video recording, Wi-Fi connectivity, Bluetooth, NFC, GPS, micro USB v2.0, GLONASS, FM radio, and a powerful Lithium Ion 3000mAh battery for an impressive 18 hours of talk time.
The Cat S40 is tested rigorously in accordance with MIL-STD-810G for military standard protection against drops, salt fog, shocks, humidity, sunlight, low air pressure, and vibration. The micro-USB 2.0 port, nano SIMs, and micro-SD card in the rugged casing are closed by rubberized aluminum flaps, and comply with IP68 standards for dust and water protection for up to 60 minutes at a maximum depth of 1 meter.
The Cat® S50c is a purpose-built, rugged Android smartphone ready to tackle any environment, job site, or outdoor enthusiast's adventure. The S50c will highly benefit those braving the elements in rugged or tough all-weather jobs, including rescue, ski patrol, public safety, construction, forestry, boating, and outdoor enthusiasts. The Cat® S50c rugged Android smartphone has a very bright 4.7" HD Gorilla Glass, scratch resistant display and is fully operational while wearing gloves, with wet hands and even in the rain or snow.
The Cat S50c is powered by a MSM 8926-1 Quad-core 1.2GHz processor backed with 1GB of RAM, and 8GB of internal storage. A 64GB capacity microSD slot is available for those seeking additional storage and the 2630mAh battery keeps the phone powered for a full work day. The S50c rugged smartphone delivers high-speed downloads on the Verizon 4G network and access to millions of apps from the Google Play store and the Cat® phone app store. Wi-Fi, Bluetooth, GPS, GLONASS, 1080p video recording, 8MP rear facing camera with flash, 2MP front-facing camera, push-to-talk feature, multiple sensors, and FM Radio come standard on the Cat® S50c.
The rugged design of the Cat® S50c meets the United States Military standard MIL-SPEC 810G and IP67 rating, so it is protected against drops, water, dust, extreme temperatures, humidity, thermal shocks, vibration and salt mist. It can be used in temperatures ranging from -25 °C (-13 °F) to 55 °C (131 °F) and the S50c can resist falls from a height of up to 4 feet.
For a limited time Group Mobile is excited to offer the easiest and most advanced construction calculator app, BuildCalc, free with the purchase of a Cat S40 or Cat S50c rugged smartphone,-- a $30.00 value. Rated as one of the 10 best apps for construction by Fitcom Solutions, the BuildCalc mobile app provides a material estimation calculator for several construction materials including footings, masonry, volume/area, roofing, and more to help streamline your construction math. The BuildCalc app also makes conversions simple and fast for distance, area, volume, weight, and angles. BuildCalc is the perfect addition to the Cat S40 or Cat S50c rugged smartphones.
To get the most out of the Cat S40 or Cat S50c rugged smartphones, Group Mobile also offers Cat rugged accessories including car mounts, bike mounts, and more. For more information, visit:
About Cat devices and accessories:
The Cat brand stands for trust, durability, reliability and quality. The Cat DNA is found in every Cat mobile phone and accessory offered by Bullitt Mobile Ltd. and provides boundless experience with robust mobility. A new product was created for wireless communication that meets the great variety of needs of a demanding life.
To find out more about what Cat phones and accessories are made of visit http://www.catphones.com
About Group Mobile
Headquartered in Phoenix, AZ, Group Mobile serves customers all over North America. Customers range from Fortune 500 companies and the U.S. Military, to local police/fire/ambulance, to small and mid-size businesses, to the frequent traveler that needs something more durable than a commercial, off-the-shelf computer. Group Mobile carries all the leading rugged computing brands. In addition, Group Mobile offers vehicle docking and mounting equipment from Gamber-Johnson, Ram Mounts, and Havis. To learn more about rugged computers and how they differ from commercial, indoor computers, check out the Rugged Computer Guide or visit groupmobile.com.
About Bullitt Group
Founded in 2009 by Colin Batt, Dave Floyd and Richard Wharton, Bullitt Group enables the world's leading brands to enter into rapid growth consumer technology categories creating broader appeal and new, long term income streams in the process.
Since its formation six years ago Bullitt Group has designed, manufactured and distributed millions of mobile phones, audio products, other connected devices and related peripherals to more than sixty countries across the globe. Bullitt is the global licensee for: Cat (Caterpillar Inc.) for mobile phones and related peripherals; Ted Baker for audio products; JCB for mobile phones and related peripherals; Ministry Of Sound for audio products and mobile peripherals; Kodak for mobile phones and related peripherals. Bullitt's Group's Head Office is Reading, England with additional office locations in Taipei (Taiwan), Shenzhen (China), New York (USA).