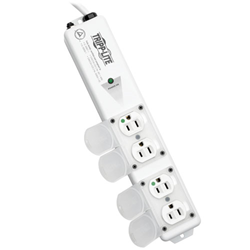 Our new medical-grade power strip gives healthcare facility administrators the protection they need to keep patients, as well as staff, safe from electrical shocks
Chicago, IL (PRWEB) March 15, 2016
Tripp Lite, a world-leading manufacturer of power protection and connectivity solutions, has expanded its line of UL 60601-1-compliant medical-grade power strips with the addition of the PS-406-HGULTRA. This new medical-grade power strip features a patented protection circuit to guard patients and staff against shock hazards, while providing four hospital-grade outlets for connecting equipment.
The PS-406-HGULTRA medical-grade power strip is ideal for use in areas both inside and outside of patient-care vicinities, including therapy rooms, imaging environments, patient rooms and administrative areas. A switchless design prevents accidental shutoff and integrated, locking safety covers guard against access to unused outlets.
Key Benefits:

Approved for use inside and outside of patient-care vicinities
Complies with UL 60601-1 specifications
Patented protection circuit guards against shock hazards (U.S. Patent No. 7,375,939)
6 ft. power cord allows connected equipment to be moved where needed
Resettable 15A circuit breaker protects against dangerous overloads
Includes NEMA 5-15P-HG hospital-grade plug and four NEMA 5-15R-HG hospital-grade outlets
Integrated locking safety covers guard against access to unused outlets and require a tool for removal
"For the healthcare professional, patient safety is a top concern," said Jim Folk, Tripp Lite's Director of Healthcare Solutions. "Our new medical-grade power strip gives healthcare facility administrators the protection they need to keep patients, as well as staff, safe from electrical shocks. And, this strip's 6 ft. cord adds flexibility of equipment placement so medical technicians can focus on treatment and procedures."
For more information on the new power strip, visit: Tripp Lite PS-406-HGULTRA Medical-Grade Power Strip with UL Compliance.
About Tripp Lite
Outstanding product reliability and exceptional service have been Tripp Lite trademarks for over 90 years. Tripp Lite´s innovations include the world's first UPS system designed specifically for personal computers and the world's most trusted premium surge suppressor—the Isobar®—with more than 19 million in use. Tripp Lite maintains the highest level of ready-to-ship inventory in the industry with more than 3,000 different products, including UPS systems, rack systems and cooling solutions, PDUs, PowerAlert software for enterprise-level system management and control, surge suppressors, KVM switches, cables and connectivity products, inverters, power strips and notebook accessories. Headquartered in Chicago, Illinois, Tripp Lite maintains a global presence with fully staffed offices worldwide. Additional information, including a list of Tripp Lite's sales offices and authorized reseller partners, can be found by visiting Tripp Lite's website: http://www.tripplite.com.