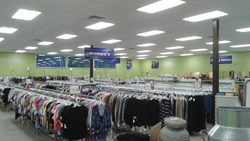 Belmont, NH (PRWEB) March 14, 2016
Shoppers and donors are invited to the Grand Opening celebration of Goodwill Industries of Northern New England's new Belmont, New Hampshire store and donation center on Thursday, March 17, 2016.
Celebration activities include a ribbon cutting ceremony at 9:00 am, door prizes and weekend-long raffle. Customers will also have the opportunity to learn about Goodwill's programs that help strengthen our communities and get people back to work.
The new store and donation center is at 95 Daniel Webster Highway in Belmont, across from the Belknap Mall. The new 13,000 square foot building features a convenient covered donation area, polished concrete floors (which eliminates the need for harsh chemical cleaners), and indoor and outdoor LED lights to reduce electricity use.
"We are delighted to add a Goodwill retail store and donation center in Belmont," said Anna Eleanor Roosevelt, President and CEO of Goodwill Industries of Northern New England. "Revenue generated from our retail stores is invested in workforce services that help people in New Hampshire build stability in their lives."
The new store will feature a wide variety of donated goods as well as a limited selection of new items to create a complete shopping experience. The new Belmont Goodwill store will employ 39 full and part time staff members, an increase of 17 over the Laconia staff, who are moving to the new store in Belmont.
Store hours are Monday through Saturday 9:00am – 8:00pm and Sunday 10:00am – 6:00pm. Starting March 20, store and donation center hours are Monday through Saturday 9:00am – 9:00pm and Sunday 10:00am – 7:00pm.
The Belmont location is replacing the Goodwill Retail Store and Donation Center on Pleasant Street in Laconia. The Laconia store closed on March 12.
"While it is bittersweet to leave our store in Laconia, we are happy to find a location just two miles away that works for our employees and customers," said Roosevelt.
Goodwill has operated the retail store and donation center in Laconia since February 2000.
The new store in Belmont will join the other 9 Goodwill stores in New Hampshire: Amherst, Concord, Derry, Hooksett, Hudson, Manchester, Portsmouth, Seabrook and Somersworth.
# # #
About Goodwill Industries of Northern New England
Goodwill Industries of Northern New England has a 10-year goal of being instrumental in moving 10,000 households into stability in our territory of Maine, New Hampshire and northern Vermont.
We not only create training opportunities and jobs within Goodwill, our Workforce Services helps local businesses build their own workforce.
As an employer of more than 2,100 people and a social service provider, we have a unique perspective that can help other employers find and keep reliable employees. We operate 30 retail stores across northern New England.
In 2016, Goodwill NNE launched Job Connection in partnership with Families in Transition in Manchester. Job Connection integrates social work practice and personalized workforce development, addressing the challenges individuals face when life circumstances cause barriers to employment. Job Connection services are based in all FIT locations.
Recycled Cycles, a Goodwill NNE service in New Hampshire, is a partnership with the Central New Hampshire Bicycling Coalition to create job training opportunities repairing and maintaining bicycles. Program participants also benefit through individualized training and mentoring. Recycled Cycles is focused on increasing community awareness about the health, environmental and cost benefits to transportational cycling. To date, more than 1,700 bicycles have been sold and nearly 120 bikes have been donated to other non-profit organizations.
The Granite State Education Corps, a Goodwill NNE AmeriCorps program, currently has 21 members placed at 15 sites in New Hampshire. Members work with at-risk students to increase student engagement through mentoring, academic support, service learning and community outreach.
Goodwill NNE also operates Good Clean Property Services – a full service commercial property maintenance company offering the perfect combination of quality, customized, eco-friendly services.
Our services are funded by revenue from retail and recycling operations, grants, fees, and philanthropic gifts. Please visit http://www.goodwillnne.org for more information.