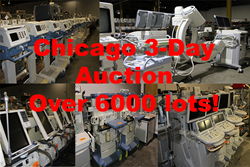 Melrose Park, IL (PRWEB) March 13, 2016
This Chicago auction will include over 300 lots of power and instruments sets from a closed hospital plus, surgery / OR, anesthesia, infusion, ventilators, exam tables, lab, endoscopy equipment and much more.
Auction Date: Tuesday, March 15, Wednesday, March 16 and Thursday, March 17
Auction Start Time: 9 AM CST each day
Inspection Dates: Monday, March 14 from 8 AM - 4 PM
Equipment Removal: Thursday, March 17 - Friday, March 25 from 8 AM - 4 PM
Auction Location: 1400 North 25th Avenue, Melrose Park, IL 60160
Highlights
-Hologic Selenia (2008) Digital Mammo
-GE OEC Series 9800 C-Arm, 12 Inch II
-Siemens Arcadis Varic C-Arm, 9 Inch II
-Siemens Arcadis Avantic C-Arm, 12 Inch
-Datascope CS100 Intelligent Intra-Aortic Balloon Pump (2)
Hospital Beds/Stretchers
-Hill Rom Advanta
-Hill Rom Transtar Stretchers (8)
-Hill Rom Glide Away Stretchers (10+)
-Stryker Big Wheel Stretchers (10)
-30 Plus Stryker Stretchers (1550, 1710 ,1711, 1068)
Exam Tables
-Ritter 75E Power Exam (2)
-Midmark 75L Power Chairs (6)
Infusion
-Alaris Medley 8000 with Modules (30+)
-Curlin Medical Painsmart 10D (27)
Ventilators
-Nellcor Puritan Bennett 840 Ventilators (20)
-Carefusion Viasys Avea Ventilators (2)
Endoscopy
-Olympus Endoscopy System to include Evis Exera II CV-180 Video Processor, MAJ-1430 Pigtail, CLV-180 Light Source, MAJ-1428 Keyboard, OFP --Endoscopic Flushing Pump, OEP-3 Printer and OEV 191 Monitor On WM-N60 Mobile Workstation (2)
Olympus Endoscopy System to include Evis Exera II CV-160 Video Processor, MAJ-843 Pigtail,
Surgery/OR
-Steris Harmony LC Dual Head Center Mount OR Lights (5)
-Alcon Infiniti with Ozil
Lab
-Leica CM1850 Cryostat
-Leica CV5000
-Cell Dyn 3700
Instrumentation
-Over 300 lots of Power & Instrument Sets from Closed Hospital
Sterilizers/Washers
-Steris V-160
-Steris V-160H
-Steris G-116
Anesthesia
-Drager Apollo (2)
-Datex-Ohmeda S/5 Aespire Anesthesia (3)
-Datex-Ohmeda S/5 Aestiva
Defibs
-500 Plus Defibrillators Including:
-Life Pak 15
-Physio Control Lifepak 20
-Agilent HeartStart XL
-Zoll FACTORY REFURBISHED M-Series BIPHASIC
-Zoll CCT
-Zoll M-Series Biphasic
Surgical Microscopes
-Carl Zeiss OPMI Neuro Surgical Microscope
-Moller-WEDEL VM900 Neurosurgical Microscope to include Dual Face to Face Binoculars
-Wild Heerbrugg M690 Surgical Microscope
-Carl Zeiss OPMI Pro Magis Surgical Microscope
Patient Monitoring
-GE Cardio Cap 5 (2)
-Welch Allyn SPOT Vital Signs Monitors
-Datascope Passport 2 (10+)
Lasers
-Coherent VersaPulse PowerSuite Holmium 30W Laser System
-Dornier MedTech Medilas H Holmium Laser System
Radiology
-GE OEC Series 9800 C-Arm, 12 Inch II
-Siemens Arcadis Varic C-Arm, 9 Inch II
-Siemens Arcadis Avantic C-Arm, 12 Inch
Ultrasounds
-GE Logiq P5 Ultrasound Machine with 2 Probes (4C, E8C)
-Philips IE33 with Flat Screens (4)
-Philips IU22 Ultrasound Machine with 4 Probes (L12-5, L9-3, C8-4V, C5-1) (DOM Feb, 2008)
For more information on this auction please click here.
Who is Centurion Service Group?
Centurion Service Group is the innovative company behind the world's largest used medical equipment auction house. They empower buyers to purchase from the largest inventory, with no minimum or maximum restrictions, and a fast and easy auction process. Selling more than 100,000 pieces of medical equipment every year, they have been rated the largest medical equipment auction house in the world. They partner with trusted healthcare systems to bring you over 6000 medical devices each month from three convenient locations- Chicago, Las Vegas, and South Florida.
To purchase through our Live and Timed Auctions, please visit our Buyer Resources Guide to learn more.
For more information on upcoming auctions, please visit http://www.centurionservice.com or contact us at info(at)centurionservice(dot)com.
MORE EQUIPMENT. LESS WORK.