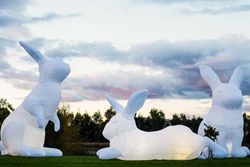 New York, NY (PRWEB) March 14, 2016
Australian artist Amanda Parer today announced the launch of the North American tour of Intrude, her highly acclaimed public art installation that features monumental rabbits, each sewn in nylon, inflated and internally lit. From March – June 2016, the giant rabbits will travel throughout North America, making stops in Washington D.C., San Francisco, Toronto, New York, Houston, Los Angeles, Denver and Memphis. (See schedule below.)
One of the most celebrated and widely viewed pieces of light sculpture ever created, Intrude, which was a prominent work in the 2014 Vivid Festival in Sydney, has brought a joyful spirit to more than 19 major cities throughout the world, including London, Perth, Paris and Boston. The visual humor evoked by the enormous rabbits lures audiences into the artwork to reveal a more serious environmental message.
For artist Amanda Parer, rabbits are an animal of contradiction. While they often connote a furry innocence, rabbits are considered an invasive pest in the artist's native Australia, where they have caused a great imbalance to the country's natural and delicately balanced ecosystems since they were first introduced by white settlers in 1788. Through Intrude, Parer hopes to move people to thoughtfully consider how humans can change and dominate the environment.
"I am thrilled for the bunnies to make their way across North America," said Parer. "I expect people will be drawn to the rabbits' playful appearance, and I hope they will also take the time to understand the deeper meaning in the work and discuss how our actions impact the natural world in which we all live."
"Intrude has become a worldwide sensation," said Chris Wangro, the lead producer of the installation's North American tour. "We look forward to bringing this popular and meaningful work of art to cities throughout the U.S. and Canada to delight and enlighten people of all ages with in their magical presence."
A portion of the Intrude tour is being presented by Arts Brookfield, the cultural arm of global real estate corporation Brookfield, which is bringing Intrude to its premier properties in New York, Houston, Los Angeles and Denver. For its tour of Intrude, Arts Brookfield commissioned two additional rabbits, each architecturally scaled, designed to tower above the already enormous rabbit figures. The pair will join the five original sculptures during Arts Brookfield's portion of the tour.
Amanda Parer's edgy and ephemeral artworks explore the natural world, its fragility and our role within it. Amanda's work features startlingly beautiful creatures enlarged and frozen within their chosen habitats. When viewing one of these iconic, mostly feral animals inhabiting a beautifully haunting landscape, the environmental message is enhanced by the artist's finely crafted traditional technique in any of her chosen mediums, such as painting, sculpture and public installation. Originally from Sydney, Parer now resides in Tasmania where her work has been acquired by both public and private collections. She has been selected for notable national competitions including five times for the Blake Prize, as well as for the Glover Prize in 2008, 2012 & 2013. Amanda has just completed a new light art installation called Fantastic Planet which was commissioned by Winter Lights Festival in London. Parer is currently developing a full exhibition at Harbour City Gallery in Hong Kong, which will open in October 2016 and include paintings, sculptures, and installation. She has also been commissioned to create a new public artwork for the inaugural Doha Festival in Qatar. Intrude has also been invited to be presented at the opening of the La Boverie, a new tourist attraction in Belgium that is both a fine arts museum and an international quality exhibition center. Intrude at La Boverie will be produced in collaboration with The Louvre Museum in Paris.
For more information, visit http://amandaparer.com.au/.
TOUR SCHEDULE
TORONTO: Monday, March 14 – Wednesday, March 23
Brookfield Place Toronto (181 Bay Street)
SAN FRANCISCO: Monday, April 4 – Monday, April 25
Joseph L. Alioto Performing Arts Piazza, located in the heart of San Francisco's Civic Center
NEW YORK: Sunday, April 17 – Saturday, April 30
Monday – Saturday, 12 -9 p.m.
Sunday, 12 – 7 p.m.
Brookfield Place (230 Vesey Street)
HOUSTON: Monday, May 9 - Saturday, May 14
1600 Smith Street
LOS ANGELES: Sunday, June 5 - Saturday, June 11
Installation spans three Brookfield properties: Bank of America Plaza (333 South Hope Street) and Wells Fargo Center (330 South Hope Street) on Bunker Hill; and FIGat7th (735 South Figueroa Street) in Downtown LA
DENVER: Two weekends: June 17, 18, 19 and 24, 25, 26
1801 California Street
Republic Plaza (370 17th Street)