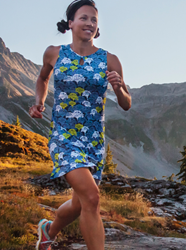 "Now, we can literally offer our customers gorgeous original art on a dress. So fun!"
Bellingham, WA (PRWEB) March 15, 2016
Nuu-Muu, creator of flattering and versatile Made in USA women's activewear, reached a whole new level of lovely by empowering artist Enid Wilson to create prints for its Spring '16 release of iconic women's dresses.
Wilson has been a driving force behind Nuu-Muu's limited edition bi-annual print releases for over six years. Thanks to a dedicated customer base, the company grew to a point where creating proprietary prints in-house was viable, and company founders Ashley Fullenwider and Christine Nienstedt gave Wilson the green light to turn her artistic vision toward dresses.
"Nuu-Muu is already a fashion-forward women's activewear brand and we have stayed true to our roots of offering beautiful, unexpected and feminine patterns," said Nienstedt. "Over the years, we've taken more and more ownership of our designs, and exploring truly unique prints with Enid has been a joyful process. Now, we can literally offer our customers gorgeous original art on a dress. So fun! Enid has such a talent for combining whimsy with femininity and strength, which is what Nuu-Muu is all about. We are completely thrilled to showcase her work on our dresses."
Nuu-Muu's Spring 2016 Collection includes four of Wilson's creations and is already selling out.
"Enid's aesthetic, her balance, her bold heart…it's a main part of the essence of Nuu-Muu, and it's all there in these prints. Spring '16 is our best selling line to date, so women must love what they're seeing," said Nienstedt. "It feels especially good to know that our company encourages our team to expand into the roles they love and to see their super-powers emerge."
Wilson was trained as a fine artist, mainly focused on painting and printmaking, but has experience with sewing, fashion and graphics. "Being self-taught in the aspects of designing pattern in repeat allows me to break the rules just enough to keep an element of surprise and maintain just the right amount of quirkiness in our prints and colors to keep them interesting," said Wilson. "Designing for Nuu-Muu requires I get out of my own head and into the head of our customer to create something that will resonate with our customer base while still using my design sensibilities."
Wilson adds, "Nuu-Muu customers like to give a little wink to the world as they go about their day to day…if you have errands to do or need to fit your 5 miles in, you might as well feel good and have a little fun while you're at it."
Wilson's limited-edition Spring '16 prints are available for purchase on http://www.nuu-muu.com and at retail partners around the world.
About Nuu-Muu
Nuu-Muu started in 2008 with a singular offering: the classic Nuu-Muu exercise dress. Since then, a fiercely devoted customer base has helped the company grow steadily. Dedicated to the idea that active wear can be fun and truly flattering and that a company can contribute to greater good in the world, Nuu-Muu offers a selection of Made-In-The-USA women's active apparel that excels technically, yet is also perfectly suited as lifestyle attire. Nuu-Muu is a proud member of 1% for the Planet and the Conservation Alliance, and regularly supports endeavors that support strong girls and women.