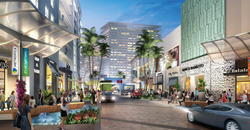 This will be the downtown for this part of Broward County, the place where the young and the young-at-heart experience a truly urban lifestyle
Sunrise, Fla (PRWEB) March 15, 2016
Construction is under way on the residential component of South Florida's newest and most urban neighborhood – Metropica, which will introduce a transit-oriented mixed-use complex into one of the fastest-growing regions in South Florida, announced KGH International Development, the project's developer. The retail portion is on track to begin vertical construction this summer.
Located just off the Sawgrass Expressway and Sunrise Boulevard, Metropica will bring 400,000 square feet of first-to-market retail space, dining and entertainment to a uniquely urban 65-acre complex that also includes 650,000 square feet of office space, 2,250 residential units and a 240-room hotel. Tenants already announced for the ground level retail spaces include: Ipic Theaters, Kings Bowl, True Food Kitchen, Kona Grill, Oil & Vinegar, Fogo de Chão, Shake Shack, Anthropologie, Free People and Kendra Scott. More announcements will be made in coming weeks and months prior to the project's Fall 2017 opening.
"This will be the downtown for this part of Broward County, the place where the young and the young-at-heart experience a truly urban lifestyle, whether they live here full-time or are visiting for the day," says Joseph Kavana, chairman of Sunrise, Fla.-based KGH International Development, the developer of the land, and president and CEO of Metropica Holdings, whose principals are the driving force and vision behind the mixed-use project. "You can't have a great downtown without spectacular dining and entertainment. We are working with some of the best restaurants, entertainment experiences and high-fashion boutiques today."
The retail will appeal not just to the residents of the high-rise towers that will form Metropica's residential core but to the diverse surrounding communities of South Florida and the strong tourist sector. South Florida boasts of 35 million visitors annually and 5.9 million residents. In Broward County alone, there are 14 million visitors annually and 1.8 million residents, most living west of Interstate 95. While value-oriented and outlet shopping can be found in the western portion of Broward County, where Metropica is located, it is significantly underserved by quality retail.
"Metropica helps form a triangle juxtaposition of aspirational retail to cater to the lucrative dense and affluent Broward marketplace with Aventura Mall just southeast of Broward in Miami-Dade County, Town Center at Boca Raton just northeast of Broward in Palm Beach County, and Metropica right smack in the middle of Broward located in the western portion," said Erick Collazo, vice president of development for Metropica Holdings.
"Whether they're millennials just starting out, empty nesters, or suburban families who live nearby, they want the best and newest in fashion and home furnishings," Kavana says. "Metropica will give them some of the great names in style from around the United States and around the world, in a spectacular setting."
The project's contemporary aesthetics derive from the world's great cities, including New York, Barcelona, São Paulo and Paris. Master planner CI Design of Baltimore and Oppenheim Architecture & Design have combined their talents to create a dense, transit-oriented complex that will connect Metropica to neighboring office complexes and entertainment facilities, as well as all of South Florida.
"Metropica embodies a prime real estate destination for Fogo because it will define new standards for urban living in South Florida," said Larry Johnson, CEO of Fogo de Chão, in a statement. "We are excited to bring the tradition and culture of the 'gaucho way of life' to Metropica."
"We are excited to announce the signing of a lease at Metropica and to expand our presence in Florida, where we currently have restaurants in Miami, Sarasota and Tampa," said Berke Bakay, president and CEO of Kona Grill, in a statement. "We look forward to sharing our innovative food and drink offerings and creating many loyal fans in the community."
Geared to the pedestrian, Metropica also will boast walking and bike trails, courtyards and landscaping to encourage 24/7 activity. A centrally located parking garage will accommodate 3,600 cars. Fully WiFi enabled, the complex incorporates state-of-the-art fiber optics, electric vehicle charging stations and kiosks in the central park that will provide transit information.
"Metropica really will become a prototype for the downtown of the 21st century, with retail and dining providing activity throughout the day and evening," Kavana says.
###
ABOUT METROPICA
Being developed by Metropica Holdings LLC – a venture led by real estate developer Joseph Kavana, CEO of
KGH International Development, LLC – Metropica is the greatly anticipated urban high street development
encompassing 65 acres and more than 4 million square feet of world-class residential, commercial, hotel,
conference and public spaces. At its completion, Metropica will offer over 1,900 high-rise residential units and
an abundance of unrivaled experiences including world-class shopping and dining, a five-star health and
wellness center, a resort-style Beach Club, several public spaces dedicated to visual and performing arts, and
additional elevated recreational amenities such as a tennis club, mini-soccer fields and its very own Central
Park. Metropica is based on the concepts of "new urbanism" and "human modernism," strategies that strive to
create pedestrian- and eco-friendly environments that offer a higher, healthier quality of life in places reflective
of their time. Metropica is destined to serve as the regional epicenter for South Florida's rapidly increasing
populace and change the face of the Broward real estate market.