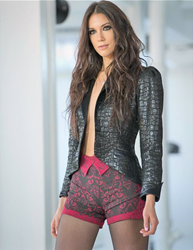 San Francisco, CA (PRWEB) March 15, 2016
For a limited time, you can now shop the runway styles that were featured at New York Fashion week at the Fall showcase of emerging women's apparel designs, Ane Amour.
Brand new jewelry pieces in 18k white gold necklaces, earrings, rings, and more helped play a role in completing the unique and trendsetting looks for the modern day woman made by designer Iyala Berley, in its third collection since its launch in November 2015.
Berley has incredible street credit and sticks to her NYC girl roots, with her exclusive line being made in the heart of NYC for go to uptown chic looks for the femme fatale.
The Ane Amour Spring runway show featuring Cate & Chloe jewelry made its debut this past February 18th at Studio 450.