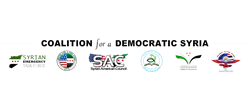 Washington, DC (PRWEB) March 12, 2016
The Coalition for a Democratic Syria thanks the United States Holocaust Memorial Museum's Simon Skojdt Center for the Prevention of Genocide for hosting an event on Tuesday, March 15 commemorating the 5th anniversary of the Syrian Revolution.
The commemoration, hosted with support from CDS, will bring together survivors of global atrocities, analysts, and legislators to discuss policy approaches to the protection of civilians, cessation of hostilities, and eventual peaceful transition to inclusive governance in Syria.
The event will be held on Tuesday, March 15 at 2pm. Speakers will include:
Rep. Ed Royce (R-CA), Chairman, House Committee on Foreign Affairs
Rep. Eliot L. Engel (D-NY), Ranking Member, House Committee on Foreign Affairs
Adam Entous, National Security Correspondent for the Wall Street Journal
Robert Satloff, Executive Director of The Washington Institute for Near East Policy
Qutaiba Idlbi, Syrian survivor
"The US Holocaust Memorial Museum has been a dedicated partner in condemning these senseless attacks happening daily against civilians in Syria," said Dr. Yahya Basha, chairman of CDS. "We hope that our combined efforts will facilitate the swift conclusion of the violence against the Syrian people."
Tuesday marks the anniversary of the Syrian Revolution. Five years of conflict have left over 470,000 dead and over 12 million displaced. Despite the condemnation of the international community, the Syrian Regime and its allies continue to perpetrate acts that the UN Commission of Inquiry has called war crimes and crimes against humanity, amounting to a campaign of "extermination" at the hands of the state.
The Coalition for a Democratic Syria is a group of Syrian-American non-profit organizations working together to bring about a swift end to the conflict and support the establishment of peace, freedom, and democracy in Syria. CDS is a multi-ethnic, multi-confessional, non-partisan organization. CDS includes: Syrian Emergency Task Force, United for Free Syria, Syrian American Council, Syrian Christians for Peace, the Association of Free Syrians, and the American Syriac Union.