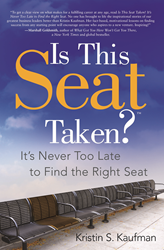 Powerful. Inspirational. Actionable.
DALLAS, TEXAS (PRWEB) March 14, 2016
Greenleaf Book Group Press and Cindy Birne Public Relations are pleased to announce "Is This Seat Taken? It's Never Too Late to Find the Right Seat" by Kristin S. Kaufman, president, Alignment, Inc.,™ has been recognized as a finalist in the 18th annual ForeWord Reviews' INDIEFAB Book of the Year Awards.
Each year, Foreword Reviews shines a light on a select group if indie publishers, university presses, and self-published authors whose work stands out from the crowd. In the next three months, a panel of more than 100 volunteer librarians and booksellers will determine the winners in 63 categories based on their experience with readers and patrons.
"Is This Seat Taken? It's Never Too Late to Find the Right Seat" is for those individuals who have reached a career crossroads, chosen a path, and found themselves twenty to thirty (or more) years later in a destination they didn't quite recognize.
Anchored by the real-life stories of people who found success later in life, Kristin S. Kaufman infuses readers with wisdom, insight, and practical advice to encourage and motivate them to trust in second chances. She provides them with a blueprint to get started, and instills them with confidence to believe in themselves and take action.
"The 2015 INDIEFAB finalist selection process is as inspiring as it is rigorous," says Victoria Sutherland, publisher of Foreword Reviews. "The strength of this list of finalists is further proof that small, independent publishers are taking their rightful place as the new driving force of the entire publishing industry."
Foreword Reviews will celebrate the winners during a program at the American Library Association Annual Conference in Orlando, Florida in June. They will also name the Editor's Choice Prize 2015 for Fiction, Nonfiction and Foreword Reviews' 2015 INDIEFAB Publisher of the Year Award during the presentation.
To learn more, visit: kristinkaufman.com
Books are available online and bookstores everywhere.
ABOUT KRISTIN S. KAUFMAN
Kristin S. Kaufman is the founder of Alignment, Inc®, a unique consultancy committed to increasing alignment within individuals, teams, boards, and organizations in order to release their potential into the marketplace and the world, and to creating sustainable success individually and collectively. Kaufman has held senior executive positions at Hewlett-Packard, Vignette Corporation, and United Healthgroup. She also offered her skills and talents to the New York City Leadership Academy effort, which was the centerpiece of Mayor Michael Bloomberg and Chancellor Joel Klein's school reform platform. She has been awarded the distinction of Professional Certified Coach from the International Coaching Federation and achieved the designation of Certified Leadership Coach from Georgetown University's Institute for Transformational Leadership. Kaufman is a prolific writer. She has appeared on a number of television and radio shows and has been featured in Forbes MPW among others. She is the author of the Is This Seat Taken? book series. Her first book, Is This Seat Taken?: Random Encounters That Change Your Life, centered on her global experiences seeding her own journey to alignment. It was released to national acclaim. With her second book, Is This Seat Taken?: It's Never Too Late to Find the Right Seat, she references real-life stories of people who found success later in life to inspire, challenge, and motivate people of all ages to trust in second chances. She resides in Dallas, Texas, with her rescued white schnauzer and constant companion, LuLu.
# # #