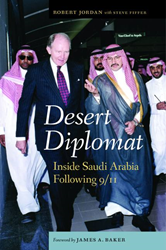 His narrative writing style offers extraordinary insight, turns complicated topic into captivating conversation.
DALLAS, TEXAS (PRWEB) April 05, 2016
Potomac Books, an imprint of the University of Nebraska Press, and Cindy Birne Public Relations are pleased to announce "Desert Diplomat: Inside Saudi Arabia Following 9/11" by former U.S. Ambassador to Saudi Arabia Robert W. Jordan has been recognized in three categories as a finalist in the 18th annual ForeWord Reviews' INDIEFAB Book of the Year Awards.
"Desert Diplomat" invites readers to a front row seat to history, and offers them an extraordinary behind the scenes look at what it means to represent your country during one of the most critical turning points the country has faced. Through his narrative writing style, former U.S. Ambassador Robert W. Jordan, Diplomat in Residence at the John G. Tower Center for Political Studies at Southern Methodist University, quickly turns a complicated topic into a captivating conversation that leaves readers on the edge of their seats.
Each year, Foreword Reviews shines a light on a select group of indie publishers, university presses, and self-published authors whose work stands out from the crowd. In the next three months, a panel of more than 100 volunteer librarians and booksellers will determine the winners in 63 categories based on their experience with readers and patrons.
"The 2015 INDIEFAB finalist selection process is as inspiring as it is rigorous," says Victoria Sutherland, publisher of Foreword Reviews. "The strength of this list of finalists is further proof that small, independent publishers are taking their rightful place as the new driving force of the entire publishing industry."
Foreword Reviews will celebrate the winners during a program at the American Library Association Annual Conference in Orlando, Florida, in June. They will also name the Editor's Choice Prize 2015 for Fiction, Nonfiction and Foreword Reviews' 2015 INDIEFAB Publisher of the Year Award during the presentation.
To learn more, visit: ambassadorjordan.com
Books are available online and at bookstores everywhere.
About Ambassador Robert W. Jordan
Robert W. Jordan is Diplomat in Residence and adjunct professor of political science in the John G. Tower Center for Political Studies at Southern Methodist University. He served as the U.S. Ambassador to Saudi Arabia from 2001 to 2003 and as a partner in the international law firm Baker Botts L.L.P. for many years, where he headed Middle East practice in Dubai.
# # #