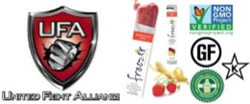 "We believe in only the cleanest nutrition for our athletes, so the partnership with Froozer® is a no-brainer for us." -- United Fight Alliance CEO, Jordan Adams. "
Denver, CO (PRWEB) March 24, 2016
A few short days after announcing the Froozer® partnership with US Speedskating, Froozer® partners Rich Naha, Arnold Zweben and Des Hague announced today a multi-year sponsorship agreement with United Fight Alliance (UFA). UFA is based out of Tampa, FL and broadcasts marquee fights across North America to over 115 million homes. For more information: http://www.unitedfightalliance.com/. Froozer®, the official healthy fruit snack and frozen smoothie partner of US Speedskating, is a leader in the frozen smoothie category. http://www.froozer.com.
"UFA is absolutely thrilled to be partnering with Froozer®," said United Fight Alliance CEO, Jordan Adams, before adding, "we believe in only the cleanest nutrition for our athletes, so the partnership is a no-brainer for us, and, on a personal note, I'm a mad fan of the Blue Aloha flavor."
"It's very difficult to walk in and offer a new product to the MMA, but UFA gives us instant credibility because of their long-standing relationships (over 15 years) in the MMA world," said Froozer® Founder, Zweben. "Fighters, trainers and promoters understand the nutritional benefits that Froozer® brings to their training regimen," concluded Zweben.
"Froozer® is committed to doing good for the body, the environment and community at large," said Froozer® Chairman of the Board and Co-Founder of Aegis Enterprises, Des Hague. "We are thrilled to partner with UFA and fuel what we consider some of the world's fittest athletes to gain the peak of their fitness. Health and wellness is a major focus for our brand and one where Froozer® will be taking a leadership position in the years ahead," concluded Hague.
"I find that even on the low carb and calorie diets leading to a fight, Froozer® provides me with enough energy before a workout and a feel good after the workout," said MMA fighter, Michael Davis. "I truly get the full nutrients/benefits out of this product."
"On the heels of the tremendous success we had at Schwarzenegger's Arnold Sports Festival in Columbus, Ohio, we realized immediately that the fitness world is one that Froozer® needs to be in," stated Froozer® CEO, Rich Naha. "This is simply the next step in a very exciting market."
About United Fight Alliance
UFA is a one-hour MMA program that brings you the best MMA from around the world. Watch as some of the biggest names in MMA fight toe to toe in the cage. You'll see exclusive footage, interviews and fighter profiles. United Fight Alliance features top ranked fighters, women's fights, intense action and more. UFA and its network of shows including Brawl Call, a thirty minute MMA magazine style, behind the scenes show, are now broadcast to over 115 million homes, airing on ROOT SPORTS, SportsNet New York, Cox Spots Television, Comcast Sports Net – Chicago, Tuff TV, WBFD/BlavTV and nationally on DIRECTV, Dish Network and ATT U-Verse. You can also find UFA at your favorite sports bars throughout the nation. Check your local listings for ROOT SPORTS, Cox Spots Television, Comcast Sports Net – Chicago and TUFF TV. Tune in on DIRECTV to channel 658, 683 or 687, on Dish Network to channel 414, 426 or 428 and on ATT U-Verse to channel 1730, 1760 or 1764. For more information on UFA or Brawl Call, contact info(at)BrawlCall(dot)com or go to http://www.UnitedFightAlliance.com or http://www.BrawlCall.com.
Media Contact:
Corinne Adams, United Fight Alliance/Brawl Call
info@BrawlCall.com
Twitter @brawlcall
https://www.facebook.com/brawlcall/?ref=hl
https://www.youtube.com/user/BrawlCallTV
For more information on how your promotion can become part of the UFA network, you can email us at: info(at)brawlcall(dot)com
About Froozer® - "simple ingredients. real nutrition."
Froozer® products, the official healthy fruit snack and frozen smoothie partner of US Speedskating and United Fight Alliance, represent the pure goodness of freshly harvested fruits & veggies picked at the peak of their ripeness, flash-frozen whole and blended for optimal taste, nutrition and digestion. Natural fruits and veggies in all their glory, nothing added or subtracted, not even a drop of water. Available in three delicious flavors - STRAWBANANA BLISS, TROPICAL SUNSET and BLUE ALOHA - in 6-pack boxes. Look for Froozer® in your local grocery store freezer at selected retail locations in the Denver Area including WholeFoods and Alfalfa's, and various select retailers in Arizona, California, Oregon, Washington State and Alaska, or place your order at http://www.Froozer.com to have your Froozer® delivered directly to your home or office.
For more information: http://froozer.com/
Contact: Rich Naha, CEO, Froozer®
Phone:303-246-1957, Rnaha@froozer.com