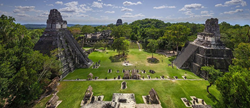 Belize is unique in being a small country with such a wide range of vacation options
San Ignacio, Belize (PRWEB) March 15, 2016
The Lodge at Chaa Creek is now taking bookings for a unique combination jungle and Caribbean beach holiday that offers travellers a mix of scenery and experiences that, according to the Belizean eco resort, "could only be possible in Belize".
Chaa Creek's marketing administrator Roberto Harrison explained that the "June Beach and Jungle Adventure" all-inclusive Belize vacation package has been developed in partnership between Chaa Creek, an inland eco-resort surrounded by a 400 acre private nature reserve, and Chabil Mar Villas on Belize's southern Caribbean coast. By combining resources, the two resorts are able to offer travellers a seamless and more affordable way to experience Belize's two most popular attractions, he said.
However, the limited time discounts will only be offered for stays during June 2016, he added.
"Belize is unique in being a small country with such a wide range of vacation options. One of the most popular destinations is inland Belize, with vast rainforests containing ancient Maya cities, temples and ceremonial caves, as well as attractions such as horseback riding, canoeing pristine rivers, nature walks and other activities. Another popular location is Belize's Caribbean coast, with the world's second largest barrier reef sheltering over a hundred tiny islands, the planet's largest atolls and attractions such as the Blue Hole that was made famous by Jacques Cousteau and National Geographic.
"Not too long ago, visitors to Belize usually chose either a Caribbean or jungle experience. But now, the 'J une Beach and Jungle Adventure Package' offers an easy and very affordable to enjoy both in one all-inclusive Belize vacation.
"One set price covers all accommodation, meals, activities, transfers and everything else needed for a complete vacation that takes in both inland and coastal Belize. Guests enjoy the same level of luxury and service between both resorts, ensuring that there are no disappointments or credit card surprises when they return home," Mr Harrison said.
At Chaa Creek, guests enjoy eco-luxe accommodation within a private 400-acre rainforest nature reserve set along the Macal River near the foothills of the Maya Mountains. All meals in the Mariposa restaurant, excursions to the nearby ancient Maya temple of Xunantunich and the ancient city of Tikal in neighbouring Guatemala, guided tours of the onsite Natural History Centre and butterfly farm, canoeing, swimming, nature walks, and selected treatments at the Hilltop Spa are all included. All transfers, with a stop at the Belize Zoo, are also included in the package, Mr Harrison explained.
The Chabil Mar portion includes air transfer from Belize international airport to Placencia with welcoming cocktail upon arrival, luxury beachside villa accommodation, all meals, use of two fresh water infinity pools as well as bicycles, kayaks and sea sport equipment, a full day of snorkelling, and a tour of either the Coxcomb Jaguar preserve or Monkey River, Mr Harrison said.
He also emphasised that, by planning their summer vacation early and arriving in Belize during June, travellers enjoy fine weather with temperatures between 86° F (30° C) and 82° F (28°C), a more relaxed atmosphere and significant savings compared to booking two separate holidays or arriving during high season.
"It's a great time of year for a Belize vacation, and this is a great way to see the very best that the country has to offer in one carefree holiday. From the moment guests are picked up at the international airport until they are dropped off, they're in good hands and completely looked after by two of Belize's most well known resorts.
"All in all it's a great vacation representing great value and we're very happy to be working with Chabil Mar to offer something special," Mr Harrison said, adding that travellers can contact their travel agents or Chaa Creek for more details and bookings.
The Lodge at Chaa Creek is a multi award winning eco resort set within a 400-acre private nature reserve along the banks of the Macal River in Belize.
ENDS