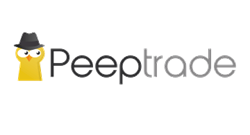 "Peeptrade gives investors transparent access to top-performing portfolios while handing the investment industry a lifeline to the new world of social networking and crowdsourcing, helping them service self-directed investors." - Juan Mendoza, CEO
AUSTIN, TX (PRWEB) March 13, 2016
Peeptrade today announced the opening of its award-winning financial information platform to the general public following a successful invite-only development and testing phase. The announcement was made at SXSW Interactive in Austin, Texas, today where Peeptrade was a participant in the Accelerator start-up pitch competition.
Peeptrade allows retail investors to access top traders' investment history alongside a wide range of interactive tools, graphs and research documents, helping them build better performing equities portfolios in a convenient and digestible format via desktop, tablet or mobile app. A 'one-stop-shop' for investment information, the platform also acts as a social network for traders, allowing them to share knowledge, build trusted relationships and discuss developments in financial markets.
The U.S. has experienced a boom in self-directed investors in recent years, off the back of waning confidence in Wall Street. However, the way these self-directed traders are conducting their investment research is outdated and risky, with a lack of transparency, inherent conflicts and too many sources to make sense of.
Peeptrade brings the industry up to speed with current trends by utilizing proprietary technology that collects, compares and verifies portfolios before adding them to the platform. The platform displays securities in an easy-to-understand portfolio concept along with reliable risk and performance indicators.
The platform also provides real-time information and opens direct communication with top traders – or 'Gurus.' It opens up a new and potentially lucrative revenue stream for investors, allowing them to grant access to their personal portfolio to users for a fee of their own choosing. More than 35 professional traders and Registered Investment Advisors (RIAs) are currently listed as 'Gurus,' representing assets under management of more than $1 billion.
"For too long investors have only had access to investment research that is difficult to decipher and riddled with conflicts," said Peeptrade founder and CEO, Juan Mendoza. "Peeptrade gives investors transparent access to top-performing portfolios while handing the investment industry a lifeline to the new world of social networking and crowdsourcing, helping them service self-directed investors."
Peeptrade already has more than 3,000 users on its waitlist. The company was the recipient of the Web Summit Angel's Choice Award and was previously named 'Austin Startup of the Year' by Tech.co.
About Peeptrade
Peeptrade is an award-winning social network and financial information platform that allows people to "peep" into the success of the top traders, giving investors a transparent and competitive edge. Check out this video for a more detailed glimpse at what they do, or visit http://www.peeptrade.com.