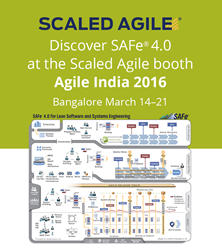 Over the last year we've seen a 300% growth rate from India, resulting in over 4,000 SAFe practitioners in that region alone.
Boulder, Colorado (PRWEB) March 13, 2016
Scaled Agile, Inc., provider of the Scaled Agile Framework® (SAFe®), is supporting Agile India 2016 as an Enterprise Agile Theme and Reception sponsor. Now in its sixth year, Agile India is taking place in Bangalore from March 14–21, 2016. With over 1,500 attendees expected, it is Asia's largest international conference on Lean and Agile software development methods. The Agile Software Community of India (ASCI) is hosting over 125 sessions with speakers from all parts of the globe. To view the full conference program, visit http://2016.agileindia.org.
"This is an important event for us because India has become a hotbed of SAFe practitioner growth and activity," said Carol McEwan, Scaled Agile's Vice President of Community. "Over the last year we've seen a 300% growth rate from India, resulting in over 4,000 SAFe practitioners in that region alone. We are focused on supporting their professional development as they build their expertise in implementing SAFe, and look forward to meeting many of our India-based members at the conference."
Conference attendees looking to learn about SAFe are invited to drop by the Scaled Agile booth to meet the team, address questions, and hear the stories behind SAFe successes in some of the largest enterprises in the world. Scaled Agile speakers will also be discussing SAFe in these sessions:
The Lean-Agile Enterprise Awakens: Scalable and Modular is the Future!
Presented by Richard Knaster, SAFe Fellow and Principal Consultant at Scaled Agile
Thursday, March 17, 5:45pm in Grand Ballroom I
In this talk, SAFe Fellow Richard Knaster discusses a more scalable and modular lean-agile approach that enables even the largest enterprises to compete with smaller and nimbler competitors that are disrupting companies in all industries.
Foundations of the Scaled Agile Framework (SAFe)
Presented by Francis Kelly, Scaled Agile VP of Partner Development and Enterprise Sales.
Thursday, March 17, 7:00pm Evening Reception
This presentation by Scaled Agile executive Francis Kelly is for those who wish to better understand the purpose and foundations of the Framework, its basis in Lean and Agile, the business benefits that it can deliver, and guidance for implementation.
"Since attending last year's Agile India conference, we've seen a dramatic increase in the number of new Partners who are on the ground supporting the SAFe community in India and Asia," said Francis Kelly VP of Partner Development and Enterprise Sales. "This is our first year as a sponsor, and we're excited to contribute to the dialog, and to connect our Indian members with over 20 of our India-based Scaled Agile Partners that provide SAFe training, consulting, and tooling."
Scaled Agile Partners with offices in India include:

CA Technologies, Gold SPCT, Bengaluru
SolutionsIQ, Gold SPCT, Bangalore
Temenos, Gold SPCT, Bengaluru
Accenture, Gold SPCT, Bengaluru
TATA Consultancy Services (TCS), Gold, Bangalore
PA Consulting, Gold, Bangalore
Persistent Systems, Gold, Pune
Mindtree, Gold, Hyderabad
Unisys, Gold, Bangalore Karnataka
AgileSparks, Gold, Pune
Xebia, Silver, Bangalore, Gurgaon
TEKSystems, Bronze, Bangalore
Crosswinds, Bronze, Hyderabad
Prowareness, Bronze, Bangalore
Qwinix, Bronze, Mysore
Innovation Roots, Bronze, Bangalore
Knowledgehut, Bronze, Bangalore
To learn more about Scaled Agile Partners and their capabilities, go to: scaledagile.com/partners.
About Scaled Agile, Inc. (SAI):
Based in Boulder, Colorado, Scaled Agile's mission is to help large enterprises achieve better outcomes, increase employee engagement, and improve business economics through adoption of Lean-Agile principles and practices based on the Scaled Agile Framework® (SAFe®). SAI supports tens of thousands of practitioners of the Framework through training, certification, consulting services, and a global partner network that reaches over 35 countries and 350 cities. As a contributing member of the Pledge 1% corporate philanthropy movement, SAI also seeks to inspire, facilitate, and encourage other companies to make a positive impact in their community.
Learn about Scaled Agile, and the Scaled Agile Framework, at scaledagile.com and scaledagileframework.com.
To view SAFe case studies, visit http://scaledagileframework.com/case-studies
Media Contact:
Regina Cleveland, Director of Communications
+1.720.477.1756
Regina(dot)Cleveland(at)scaledagile(dot)com