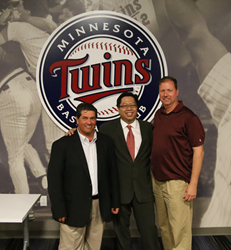 How we see, impacts how we perform on many levels
Fort Myers, Florida (PRWEB) March 14, 2016
"Filtering Blue Light will enhance visual performance, for catching and hitting baseballs, by reducing internal and external light scatter," explained Dr. Tolentino, who is developing awareness of the long overlooked issue of Blue Light.
The benefits of Blue Light filtration go beyond the field of play, and actually benefit athletic performance in terms of enhanced sleep, circadian rhythm balance, and improved physiological performance.
Larry Bennese who is the Athletic Trainer of the Minnesota Twins affiliate Rochester Red Wings is credited with identifying the Blue Light issue and engaging Dr. Tolentino to educate Trainers on this important concern.
In his presentation, Dr. Tolentino explained "How we see, impacts how we perform on many levels". A gifted Vitreo Retinal Surgeon, Dr. Tolentino is challenging the sporting community in his message to not only protect vision from Blue Light, but to consider its impact on performance. The effect of glare on vision needs to be re-examined and baseball is definitely a sport requiring vision enhancement to read the ball regardless of the position - Batter, Baseman, Catcher, Fielder and Umpire.
Hat brims, Eye-black, and traditional sunglasses are "Old Technology" methods to enhance vision on the field. Today's "High Technology" solutions to vision enhancement include macular pigment augmentation and the use of Melanin with Ocular Lens Pigment in vision lenses to filter natural and artificial Blue Light, which improve vision performance.
Macular pigment is a natural vision enhancer as it reduces "glare and dazzle", boosts detail by absorbing "blue haze", and increase contrast. Carotenoid supplements have been perfected in a new product called Clearvision.Pro that maximizes visual performance.
Melanin and Ocular Lens Pigment OLPTM are nature's own defenses from Blue Light, and the patented derivatization of both has been perfected by U.S. Physicist Dr. James Gallas PhD. It has resulted in a one of kind lens called TrueBlueR, to filter artificial and natural Blue Light. When combined and injected at lens formation, the result is a lens like no other, for exceptional preservation of color perception and protection from harmful High Energy Visible light.
Dr. Tolentino is globally recognized as a medical authority, whose qualifications include education from the most prestigious medical universities including Brown, Harvard, Massachusetts and Pennsylvania. He has developed leading therapies for macular degeneration and is considered a vision expert, engaged as a clinical trial advisor to several of the world's leading pharmaceutical firms. Dr. Tolentino is an Associate Professor of Ophthalmology - University of Central Florida and a Director of Research at the Center for Retina and Macular Disease; as well as an inventor, entrepreneur and philanthropist.
To learn more about the Blue Light threat and TrueBlue lenses, please visit http://www.truebluelens.com.
For further information, contact Todd Trifaux: todd(at)truebluelens(dot)com or call: 844-720-8783.