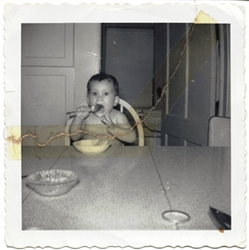 "We are thrilled to partner with Debrianna Mansini and her production "The Meatball Chronicles" by offering a special menu on the nights of her show." Jennifer Rios, general manager of Restaurant Martin. "
SANTA FE, NEW MEXICO (PRWEB) March 17, 2016
After seeing a piece of theatre about love, life, and Italian food - chances are you're going to be more than a little hungry. Santa Fe favorite, Restaurant Martín, has stepped up to the plate and paired with Debrianna Mansini's one-woman show, The Meatball Chronicles, to bring the stories and recipes from the stage to your stomach.
"Food has played an enormous part in my life and is a strong part of the performance. I want the audience to experience what I'm talking about without having to feel awkward eating during the show," says writer and performer Debrianna Mansini.
In a new twist in traditional "dinner theater,", Mansini and her director, Tanya Taylor Rubinstein decided that partnering with a local restaurant to serve a meal after each performance would be an ideal collaboration. That's when Restaurant Martín came in. Chef Martín Rios, and his wife, Jennifer, are long-time Santa Fean's with a commitment to locality – Martín volunteers for Cooking with Kids, and Jennifer is president of The Horse Shelter. Chef Rios, a native of Guadalajara, grew up in Santa Fe starting in the restaurant business as a 17-year-old dishwasher, eventually working his way up to executive chef at several restaurants and hotels. His long list of accolades range from being a semi finalist for the 2010 James Beard "Best New Restaurant in US" Award to being featured on "Iron Chef."
"We are thrilled to partner with Debrianna Mansini and her production "The Meatball Chronicles" by offering a special menu on the nights of her show." says Jennifer Rios, general manager of Restaurant Martin. "The special menu will showcase Italian cuisine and our spin on some of the dishes she is most passionate about. This is a perfect partnership for us as we are most passionate about food and the blending her production features is passion and food - right up our alley!"
Performances are Friday through Sunday, May 13-22 at the Railyard Performance Center, with Meatball Chronicles inspired price fixe dinner after each performance or anytime during the run of the show. Call 505-820-0919 to reserve your pre fixe dinner. Get tickets to the show at http://www.themeatballchronicles.brownpapertickets.com.