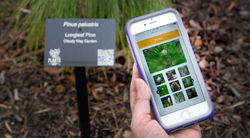 "Our tagline is, 'Connecting People With Plants,' and the signs and tags are just the beginning of that experience on Plantsmap.com," - Tracy Blevins, Plants Map co-founder
Fredericksburg, Va. (PRWEB) March 17, 2016
Just in time for the 2016 growing season, Plantsmap.com has launched My Tags, an innovative tool that makes it easier than ever to order interactive plant labels customized to your landscape directly from your own My Plants Map digital plant library.
The process of ordering or making labels is typically an arduous task, involving either a time-consuming, data-intense spreadsheet or manually writing plant labels that wear out quickly.
"We wanted to eliminate the difficulty in creating and purchasing plant tags, and that's what the My Tags tool accomplishes," said Plants Map co-founder Bill Blevins. "Our goal was to make it as easy and affordable as possible to order and customize tags and signs. You can now literally order plant tags for a collection of a thousand roses or just a few within minutes. We want our users to spend their time on growing plants rather than on the process of making labels they'll have to replace in a few months."
Plantsmap.com signs and tags have become a popular choice for public gardens, universities, arboreta and plant collectors due to their affordable pricing, attractive appearance and, most of all, their interactive features.
"We continue to hear that our tags make an impression, whether they're in a home garden, on a university campus or in a botanical garden," said Bill Blevins.
From co-founder Tracy Blevins: "As an avid plant collector and active volunteer with public landscapes, I am thrilled to create an all-in-one option to digitally document your plants and order custom plant tags."
A distinctive difference to these tags is the QR code that allows anyone with a mobile device to instantly access that specific plant's webpage on Plantsmap.com that connects with the owner's profile. The QR code serves two functions: allowing visitors to experience the plant's full growing story and the owner of the plant quick access to update their plant's webpage with photos, plant details, notes and more.
"Our tagline is, 'Connecting People With Plants,' and the signs and tags are just the beginning of that experience on Plantsmap.com," said co-founder Tracy Blevins.
Plantsmap.com is a rapidly growing network of digital plant libraries that allows users to access information about their plants from a smartphone, tablet or computer and easily share their growing experiences with others.
"These tags are not only attractive and durable, but they've also proven to be uniquely functional to our users," said Plants Map co-founder Bill Blevins. "Home gardeners as well as public landscapes applaud the ability to manage their collections from various devices without the need for software or apps. But most of all they like that the tags allow them to tell the unique story of their plant specifically."
Connecting People With Plants: Plantsmap.com is a mobile-friendly website community that hosts digital plant journals and botanical collections with photos, growing details, notes and maps. Founded in Spotsylvania, Va., in 2014, Plantsmap.com currently has more than 50,000 plant stories contributed by more than 1,000 individual and organizational users.