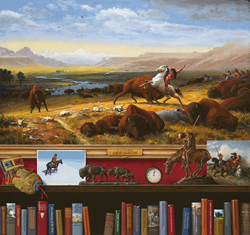 "Requiem" is my homage to the culture of the Native Peoples of the American plains.
Averill Park, NY (PRWEB) March 15, 2016
The C. M. Russell Museum of Great Falls, Montana, will auction an important painting entitled "Requiem" by internationally acclaimed artist Jenness Cortez at its annual exhibition and sale March 19, 2016. In "Requiem," Cortez uses Albert Bierstadt's final great western landscape "The Last of the Buffalo" as her own painting's focal point to pay homage to the culture of the Native Peoples of the American plains. But to bolster Bierstadt's tribute to the buffalo and Native American culture, Cortez has added a steam locomotive and train to the painting's middle ground--intending to emphatically illustrate the force and inevitability of the white man's conquest of the plains.
In "Requiem," as in all her paintings, artist Jenness Cortez continues to play the role of author, visual journalist, art historian, curator and pundit to help open our eyes to what we might otherwise have overlooked or taken for granted. To help tell her Native Peoples' story more completely, she complements Bierstadt's 1888 masterpiece with other iconic images from Frederic Remington, Charles Russell, James Earle Fraser, John Mix Stanley, Alfred Jacob Miller and George Catlin. Then, to further enrich her visual conversation, Cortez includes 28 books that relate to her message. And two books depicted in the bookcase are of special note: "Black Earth" and "Winnetou." In "Black Earth," contemporary Yale historian Timothy Snyder draws eerie parallels between the U. S. government's policy of Manifest Destiny and the philosophy eventually espoused by the Third Reich of Nazi Germany. Karl May's spectacularly popular novels, like "Winnetou," romanticized the American West for millions of German children (among them the young Adolph Hitler) at the turn of the twentieth century. Snyder posits that Hitler, an avowed life-long fan of May's books, saw in May's description of U. S. policy the model for conquering territory through the extermination of native peoples.
In this new Cortez painting, the artist continues to reexamine the classic paradox of realism: the painting both as a "window" into an imagined space and as a physical object. In summarizing her creative process, Cortez explains, "Every painting begins with a vision seen in the artist's mind, and "Requiem" is no exception. Sometimes the finished piece appears in the mind full-blown, and at other times it is amorphous––yet with some beguiling character that begs to be developed. In either case, between that first inspiration and the finished painting lie hours of research, thousands of choices and, of course, the great joy of painting. The process is organic. Even with a well-conceived composition in place, the painting has a life of its own and the best ones surprise even the artist with twists and turns that outshine the most clever of plans. It's as if the creative spirit insinuates itself into the work, wanting to serve its own best interest with solutions that far exceed the artist's original, limited vision."
For centuries artists have been challenging their intellects and skills by paying homage to the painters who preceded them. Today, Jenness Cortez has emerged as the twenty-first century's most notable exponent of this facet of art history. Her masterful work, now expanded to include the genre of Western art, gives Cortez solid footing in the colorful lineage of artists who have appropriated vintage images and woven them into their own distinctive, recognizable fabric.
By continuing to masterfully present iconic works in unexpected modern settings, Jenness Cortez truly inspires us to see differently––to rediscover, revalue and reintegrate our own intuitive resources into the hurried regimen of modern American life.
Biographical Notes:
Jenness Cortez was born in 1944 in Frankfort, Indiana. She received her B.F.A. from the Herron School of Art in Indianapolis, apprenticed privately with noted Dutch painter Antonius Raemaekers and later studied with Arnold Blanch at the Art Students League of New York. Her work is in numerous public and private collections including those of Presidents Ronald Reagan and Bill Clinton, HM Queen Elizabeth, II and the New York State Museum. Miss Cortez is represented by Perlmutter Gallery in Averill Park, New York.
Media Contact:
Robert Washington
60 Garner Road, Averill Park, NY 12018
Tel: 518-674-8711
Fax: 518-674-8714