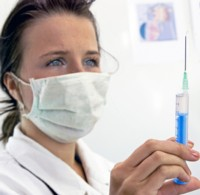 Raleigh, NC (PRWEB) March 15, 2016
Doctors at top East Coast medical research centers have published the results of a study combining several types of treatments to boost mesothelioma outcomes in patients with unresectable disease. Surviving Mesothelioma has just posted the details. Click here to read the full article.
Scientists at the University of Pennsylvania, the Perelman School of Medicine, the University of Maryland, and NYU School of Medicine found that giving patients intrapleural doses of a human interferon-alpha2b gene before giving them chemotherapy significantly boosted mesothelioma survival.
"Results of this study support proceeding with a multi-center randomized clinical trial of chemo-immunogene therapy versus standard chemotherapy alone," writes lead author Dr. Daniel H. Sterman of the NYU School of Medicine.
The study, published in Clinical Cancer Research, found 32% of patients in the second-line chemotherapy group were still alive two years after treatment.
"We have long known that combination therapy is the key to combatting treatment-resistant mesothelioma. This study moves a step closer to determining what that combination should look like for unresectable mesothelioma," says Surviving Mesothelioma Managing Editor, Alex Strauss.
Read more about the proposed new treatment protocol and more detailed study results in Power-Packed Treatment Combination May Upgrade Mesothelioma Outcomes, available now on the Surviving Mesothelioma website.
Sterman, DH, et al, "Pilot and feasibility trial of immuno-gene therapy of malignant mesothelioma using intrapleural delivery of adenovirus-interferon-alpha combined with chemotherapy", March 11, 2016, Clinical Cancer Research, Epub ahead of print, https://clincancerres.aacrjournals.org/content/early/2016/03/11/1078-0432.CCR-15-2133.abstract
For nearly ten years, Surviving Mesothelioma has brought readers the most important and ground-breaking news on the causes, diagnosis and treatment of mesothelioma. All Surviving Mesothelioma news is gathered and reported directly from the peer-reviewed medical literature. Written for patients and their loved ones, Surviving Mesothelioma news helps families make more informed decisions.