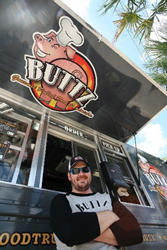 Katy, TX (PRWEB) March 15, 2016
FireDisc® Grills Founders' Griffin and Hunter Jaggard, have set a strong example to their team on the importance of giving back. They instill a strong work ethic gleaned from a hardworking family and honor those that can rise up in the wake of life challenges. They are proud supporters of the National MS Society, National Breast Care Foundation Inc. and Bridges to Life – yet they also don't forget about the local community surrounding them. Under this philanthropic leadership, it's no surprise that FireDisc Executive Chef, Conor Moran, recognized a local need and quickly devised a way to help. Houston-based, beloved, Buttz Food Truck, renowned for their gourmet smoked pulled pork sandwiches (aka "pork butt") burned to the ground in a fire started in the battery compartment of the vehicle.
After two highly successful years in business, Buttz Food Truck was becoming a phenomenon with great awareness and an enthusiastic following of gourmet pork butt die-hards. This momentum came to a screeching halt when the truck was horrifically damaged in the fire. However, Buttz Food Truck owner and entrepreneur, Garrett Blinn, did not roll over. Instead, he built a video telling the story of the fire and launched a crowdfunding campaign to get his mouthwatering pork back in the mouths of his fans.
To amplify the support level and help close the gap on funds needed to rebuild, FireDisc's, Chef Conor set up a fundraiser at Liberty Station and cooked his heart out in an effort to align the community in support. FireDisc Grills were set up and many a gourmet burger was indulged upon. The fundraiser offered the best for all parties, a taste test of the culinary burger delights including the amazing "Blueberry, Fire and BBQ" that will ultimately be added as new Buttz Food Truck menu items and FireDisc Grill raffles. Thousands were raised, bellies were full and Buttz is now a few steps closer to making the rebuild come to fruition.
To help Buttz Food Truck Rise from the Ashes, visit:
https://www.kickstarter.com/projects/1054563932/help-buttz-return-from-the-ashes
About FireDisc® Grills:
Texas-based FireDisc® Grills specializes in the design and manufacturing of the world's most the innovative, high-quality and versatile outdoor grills and accessories. The company was founded by two entrepreneurial brothers, Griffin and Hunter Jaggard, who, armed with a makeshift tractor plow disc set out on a mission to build a grill worthy of everyone from the world's top chef's to hunters, backyard family grill masters, tailgaters and campers. FireDisc® Grill products are currently sold nationally via 500+ retail locations in over 31 states and online throughout the globe.
Heavy-duty carbon steel construction render the grills indestructible, while meticulous designs yield convenient portability and ease-of-use. A rigorous "Chef-tested/Chef-Approved" quality assurance program enables the grills to deliver unmatched grilling characteristics, as they have been vetted by some of the world's leading chef's. Prior to their launch of FireDisc® Grills, the founders formed a non-profit to raise money and find a cure for Multiple Sclerosis. To date $1M has been raised via "The Carney Men" Bike MS team. Community involvement is the core of the FireDisc® brand in addition to the National MS Society they are proud supporters of the American Cancer Society, Wounded Warrior Project and many more.
For more information visit http://www.firediscgrills.com
Community Involvement: http://www.firediscgrills.com/company-involvement/
About Buttz Food Truck:
Buttz Food Truck started out as a desire to follow a passion. Founder Garrett Blinn graduated from culinary school, ended up working in sales, but never lost the passion for food. While living in Colorado, he soaked in the many outdoor outdoor pursuits available, but he missed Texas and smoking good BBQ. One day the idea hit him and he decided to open up a gourmet food truck specializing in smoked pulled pork sandwiches. Buttz was born. For two successful years, Buttz offered pecan smoked pork butt paired with unique ingredients to create delicious sandwiches. Customers could not resist the intoxicating smoke wafting up in the air. It's time for a Buttz comeback.
For more information visit http://www.buttzfoodtruck.com/
###
Media Contact:
Janine Robertson
Cell: 206-354-9093
firediscjanine@gmail.com
http://www.firediscgrills.com