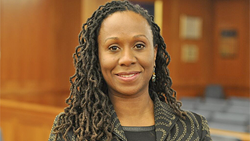 "The Washington College of Law is fortunate to attract such an experienced candidate ready to lead a law school whose very founders were women," said Scott Bass, provost of American University.
Washington, DC (PRWEB) March 14, 2016
After an extensive national search, the American University Washington College of Law has appointed Camille A. Nelson as the school's next dean. Nelson's appointment begins July 25, 2016.
A widely published scholar and sought-after speaker, Nelson is an expert on the intersection of critical race theory and cultural studies with particular emphasis on criminal law and procedure, health law, and comparative law.
"Dean-Designate Nelson brings vitality, enthusiasm, and fresh ideas to one of the nation's most distinctive law schools," said American University Provost Scott Bass. "She has our full confidence in her ability to lead a dynamic faculty, staff, and student body to the next level of impact in legal education. The Washington College of Law is fortunate to attract such an experienced candidate ready to lead a law school whose very founders were women. It is only fitting that she is able to draw upon this rich tradition and institutional legacy."
Nelson recently served a 5-year term (2010–2015) as dean of Suffolk University Law School in Boston, where she is currently a professor of law. During her tenure as dean at Suffolk, she led the creation of the school's first strategic plan and achieved considerable successes in fundraising, grant writing, and program and partnership development.
An innovator in legal education, Nelson is committed to preparing graduates for success in an evolving legal marketplace. Nelson established Suffolk's Institute on Law Practice Technology and Innovation and also instituted the nation's first program concentration in legal technology and innovation. Under her leadership, Suffolk University Law School also launched a ground-breaking "Accelerator to Practice" program—a comprehensive, three-year program that prepares graduates to upstart or join law practices whose clients are average-income individuals and families.
While at Suffolk, Nelson increased student, faculty, and administrator diversity and implemented a diversity pipeline program to encourage undergraduate students from underrepresented groups to pursue law degrees.
Professor Robert Kogod Goldman—who served as the search committee chair—said that Nelson "possesses the requisite skills and vision to take full advantage of our historic strengths, our advantages and opportunities in Washington DC, and our new campus. Camille is poised to successfully lead the law school forward in these challenging times for legal education and the profession."
Her ability to inspire and innovate at Suffolk also facilitated the Women's Leadership Academy, a Caribbean and Latin America Initiative, and a Five Point Bar Success Program.
Prior to her career at Suffolk, Nelson served on the faculty of the Saint Louis University School of Law for almost 10 years, during which she was named the school's 2004 Faculty Member of the Year and received the 2006 University Faculty Excellence Award. She also held appointments at Hofstra University Law School, Washington University in Saint Louis School of Law, University of Ottawa Faculty of Law, University of Hawaii, Université de Paris-Dauphine (France), and Columbia Law School.
Before entering academia, Nelson clerked for Justice Frank Iacobucci of the Supreme Court of Canada and worked as a litigation associate at one of the largest law firms in Canada.
Nelson's other contributions to the advancement of legal education and the legal profession are extensive. She serves on the Association of American Law Schools Nominating Committee and is an elected member of the American Law Institute. Most recently, she served on the Senator Warren and Senator Markey Advisory Committee on Massachusetts Judicial Nominations; the Steering Committee of the American Association of Law Schools Deans Forum; as co-chair of the Association of American Law Schools Section for the Law School Dean, and on the Boston Bar Association Board. Massachusetts Lawyers Weekly recognized her as a "Top Woman of Law" and she was named to the Power 100: Most Influential Black Lawyers in the US.
ABOUT AMERICAN UNIVERSITY AND THE WASHINGTON COLLEGE OF LAW
In 1896, American University Washington College of Law became the first law school in the country founded by women. More than 100 years since its founding, this law school community is grounded in the values of equality, diversity, and intellectual rigor. The law school's nationally and internationally recognized programs (in clinical legal education, trial advocacy, international law, and intellectual property to name a few) and dedicated faculty provide its JD, LL.M., and SJD students with the critical skills and values to have an immediate impact as students and as graduates, in Washington, D.C. and around the world. WCL opened its new Tenley Campus for classes on Jan. 11, 2016, improving the law school's connections with the region. Featuring more than 37,000 feet of teaching space, as well as a 5,400 square foot outdoor courtyard, the campus was planned with a student-centered approach and a philosophy of mutual respect and collaboration. For more information, visit wcl.american.edu.
Located in Washington D.C., American University is a leader in global education, enrolling a diverse student body from throughout the United States and more than 140 countries and providing opportunities for academic excellence, public service, and internships in the nation's capital and around the world.