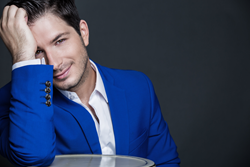 SENSATIONAL NEW YORK DEBUT! Perris needs no help to win over an audience... his charm was infectious!! BroadwayWorld
New York City (PRWEB) March 15, 2016
George Perris, Greek-French pop sensation and Decca Records/Universal Music recording artist, will tour the US for the first time in 2016 in support of his album "Picture This" and his PBS Concert Special "Live from Jazz at Lincoln Center".
His debut Public Television concert special was filmed live at a sold-out performance at the prestigious Jazz at Lincoln Center in New York City and was broadcast nationally on PBS starting December 2015, reaching more than 45% of the country, 120 million viewers and more than 400 airings of the Special!
Perris will bring his "Picture This Tour" to the US and Canada after a successful international tour with performances in more than 30 cities around the world, including Athens, Sydney, Melbourne, Bangkok, Moscow and Istanbul.
The performance is a multilingual experience that includes songs from his latest album "Picture This" as well as standards in French, English, Greek and Spanish from the artist's repertoire.
"Picture This" represents Perris' first collaboration with a host of global producers, writers, arrangers and mixers including Mark Portmann (Barbra Streisand, Celine Dion), Marco Marinangeli (Josh Groban, Il Divo), Simon Hale (Bjork, Tina Arena), and Smidi (Coldplay, Haim). This fresh approach to adult pop, which also features the participation of The Prague Symphony Orchestra, was released by Decca Records/Universal Music globally and RED / Sony Music in the USA.
George Perris supports the Horatio Alger Association of Distinguished Americans, honoring the accomplishments of individuals who have achieved great success in spite of adversity since 1947. The Horatio Alger Association provides need based scholarships assisting youths to pursue their dreams through higher education. Information at http://www.horatioalger.org
GEORGE PERRIS MAKES SENSATIONAL NEW YORK DEBUT! The hot young Greek-French tenor, was in superb form at the Allen Room! [...] Perris needs no help to win over an audience [...] his tone is at once beautiful and thoughtful [...] his self effacing charm was infectious [...] He had the audience swaying with tear-filled eyes.
Broadway World
TOUR DATES:
04/22/16 Oakmont, PA - The Oaks Theater
04/24/16 Sellersville, PA - Sellersville Theater
04/27/16 Chicago, IL - City Winery
04/28/16 Roanoke, VA - Jefferson Center
04/29/16 Annapolis, MD - Rams Head on Stage
05/01/16 Folsom, CA - Harris Center
For more information please visit:
http://www.georgeperris.com
http://www.facebook.com/georgeperrisofficial