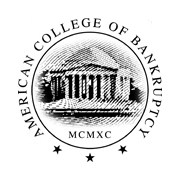 Washington, DC (PRWEB) March 14, 2016
The American College of Bankruptcy announced today that it has selected its Distinguished Law Students for the Fifth, Sixth, Seventh, Eighth, and Tenth Circuits for 2016. They will select students from the First, Second, Third, Fourth, Ninth, and Eleventh Circuits in 2017. The selected students are:
Fifth Circuit
Jeri Leigh McDowell
Texas Tech University School of Law
Lubbock, TX
Sixth Circuit
Russell J. Bucher
University of Michigan Law School
Ann Arbor, MI
Seventh Circuit
Jeffrey D. Wysong
Northwestern Pritzker School of Law
Chicago, IL
Eighth Circuit
Danielle Scimeca
Drake University Law School
Des Moines, IA
Tenth Circuit
Edwin Cabell Massey
University of Colorado Law School
Denver, CO
The students undergo a rigorous nomination process. Students must be recommended by either a College Fellow, their Professors, or Deans. The nomination must also include the student's written materials and additional letters of recommendation. Each nominated student must have outstanding academic credentials and an interest in bankruptcy law. All of the nominated students are considered by the Circuit council of their Circuit, which selects the Distinguished Law Student. Only one student is selected from each Circuit. The selected students are awarded an all expense paid trip to the College's annual Induction Ceremony and Events in Washington D.C. where they have the opportunity to meet and get to know the most distinguished bankruptcy practitioners and judges in the country. The Induction Ceremony and Events will take place March 18th and 19th, 2016.
The 2016 Induction ceremony will take place at the Smithsonian Donald W. Reynolds Center for American Art and Portraiture Museum, and will be presided over by Michael L. Cook, Chair of the College.
The American College of Bankruptcy is an honorary professional and educational association of bankruptcy and insolvency professionals. The College plays an important role in sustaining professional excellence and supports educational and pro bono efforts in local communities around the country. College Fellows include commercial and consumer bankruptcy attorneys, insolvency accountants, turnaround and workout specialists, law professors, judges, government officials and others involved in the bankruptcy and insolvency community.
For more information about the American College of Bankruptcy, or about the 2016 Distinguished Law Students, contact Shari A. Bedker, Executive Director at 434-939-6004, fax at 434-939-6030, email at sbedker(at)amercol(dot)org.