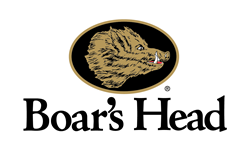 Sarasota, Fla. (PRWEB) March 15, 2016
Boar's Head Brand®, one of the nation's leading providers of premium delicatessen foods, is rescuing time-crunched hosts with effortless spring brunch recipes inspired by the delectable Boar's Head Sweet Slice® Boneless Smoked Ham. Let Boar's Head do the work for you this season, with these can't miss brunch recipes that can be prepared in less than 45 minutes, leaving ample time to be spent with friends and family.
"Boar's Head is passionate about helping hosts entertain with ease by offering flavorful recipes that are sure to hit a sweet spot," said Elizabeth Ward, director of communications for Boar's Head Brand. "We honor those special moments where friends and family can revel in each other's company, so we create inspired recipes that allow hosts to pull together effortless dishes in a short amount of time."
These easy-to-whip-up recipes are sure to make for some sweet spring-time memories:

From crisp apples and juicy tomatoes to fresh peppers and flavorful mushrooms, these simple recipes toss together fresh quality ingredients to create the perfect dish for your spring brunch.
Boar's Head products are available at select supermarkets, gourmet stores and fine delicatessens nationwide. For more information about Boar's Head, new offerings and recipes, please visit http://www.boarshead.com, like us on Facebook at http://www.facebook.com/boarshead, or follow Boar's Head on Twitter @boars_head and Instagram @boarshead_official.
About Boar's Head
Founded in 1905, Boar's Head Brand has upheld a commitment to unwavering standards for quality for over a century, refusing to take shortcuts that compromise the integrity of its products for the sake of convenience or economy. What started with just a few products has grown to over 500, ranging from premium delicatessen meats, cheeses and condiments to an array of Italian and Old World specialties, hummus and foodservice items. All Boar's Head meats, cheeses, spreads and condiments contain no fillers, by-products, MSG added, artificial colors or flavors, gluten or trans-fat.
Media Contacts:
Meredith Bombella
Boar's Head Brand®
Tel: (941) 955-0994
Email: meredith(dot)bombella(at)boarshead(dot)com
Isabel Peña Alfaro
FleishmanHillard on behalf of Boar's Head Brand®
Tel: (212) 453-2431
Email: isabel(dot)penaalfaro(at)fleishman(dot)com