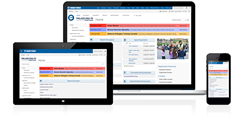 Serving Public Safety for Safer Communities!
Greenwood Village, Colorado (PRWEB) March 16, 2016
Mariano Delle Donne, CEO of Adventos™ and creator of SmartForce™—an industry-leading Agency Management System—is pleased to announce he will host a podcast on Star Worldwide Networks called ReturningBlue.
ReturningBlue will begin airing March 16, 2016. Episodes will feature interviews with public safety personnel showcasing how they got started, details about current projects and how these impact community integration, and more.
Mostly, ReturningBlue will serve as a platform on which personnel will tell stories—sharing successes and best practices. Listeners will hear unedited, practical insights about law enforcement and policing issues affecting the guests' daily activities. Guests also will discuss local and national trends.
"This show is a not-for-profit endeavor that aligns with Adventos' core value," said Delle Donne. "We exist to serve the public safety community and do whatever we can to help them advance their mission."
Episodes of ReturningBlue will be hosted on Star Worldwide Networks' website (starworldwidenetworks.com), which regularly produces and distributes more than 150 radio shows in all different categories and languages. Episodes may be listened to live or downloaded for playback.