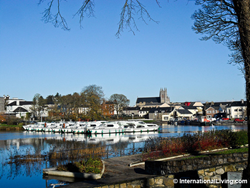 The whole nation—but particularly the countryside—takes a small-town approach to life
Baltimore, MD (PRWEB) March 14, 2016
Maybe it's the music. Or the breathtaking landscapes. Or the witty humor and long, effortless conversations. Even without a drop of Irish blood, it's easy to fall in love with Ireland's charms, traditions, and strong sense of community.
The recession that followed the Celtic Tiger boom hasn't altered the essentials that make the Emerald Isle special.
Everywhere in Ireland, history comes in torrents. The Celtic age of wonder, mystery, and heroic deeds never seems too far away. Just as Ireland appeals to travelers, so should it to expats looking for a friendly, good-value escape for retirement.
The whole nation—but particularly the countryside—takes a small-town approach to life. Everyone in Ireland speaks English (even in the few Irish-speaking areas). The Irish are friendly, hospitable people. It may be a cliché, but it's true. The literal translation of "hello" in Irish is "a hundred thousand welcomes to you."
Living here, retirees don't have to make a hard choice between seascapes and mountains, between tranquil lake lands or verdant river valleys. Ireland has them all.
Most towns and villages are not too far from the ocean...from golden beaches swept clean by rolling Atlantic waves...the views of mysterious smaller islands shimmering offshore...and quaint harbor towns with their hand-painted shop fronts and color-washed cottages.
There's never been a better time to consider Ireland as a retirement destination. Read on for 10 great reasons why spending time there makes sense today.
1. English-Speaking Country. It's simple. Fitting in and making friends is easy in Ireland because everyone speaks English.
2. Breathtaking Natural Beauty. The natural beauty of Ireland is undeniable. From the rolling green hills of Kerry to the golden beaches swept by wild Atlantic waves….Ireland is one of the most scenic countries in the world.
3. Ceoil agus Craic (music and fun). Enjoying life is something the Irish like to do. Whether it's having a drink in the local pub while listening to traditional music with friends or gossiping over a freshly brewed pot of tea, Ireland is a nation full of wit and humor.
4. The People. The Irish really are the warmest people in the world. Friends and family are an important part of Irish life and there's never a shortage of someone to share a drink with. In quiet countryside villages everybody knows their neighbor—and also all there is to know about their neighbor's granny, uncle, and cousin Paddy in New York.
5. Real Estate Bargains. Following the fall of the Celtic Tiger there are still many affordable real estate opportunities in Ireland. In the scenic village of Kenmare, for example, a three-bedroom home set on an acre with a mature garden and mountain views is on the market for $192,368.
6. Gateway to Europe. Ireland is an ideal base for anyone looking to travel the rest of Europe. Ryanair, a budget airline, is an Irish company and offers cheap flights for anyone with a wanderlust for other European destinations.
7. First-World Infrastructure. Ireland, like the rest of Europe, has modern roads, great infrastructure, high-speed internet, and a good public transport system.
8. Rich History and Culture. The history of Ireland is an important part of what makes it the country it is today. The Irish are proud of their history and because of this they uphold a strong sense of culture. From Joyce to Yeats…there is no shortage of literary geniuses in Ireland, either.
9. Cost of Living. Outside Dublin, the cost of living in Ireland is still affordable. Supermarkets like Aldi, Lidl or Tesco keep the cost of groceries down. Rent is also affordable outside the capital. A one-bedroom cottage in Killorglin, Kerry can be found for as little as $500 a month.
10. The Food. Ireland produces some of the best dairy products and meat in the world. (The Irish weather is good for something.) There is a new and exciting food scene in Ireland with world-class chefs there today.
The full report with infographic can be read here: The 10 Best Things about Ireland.
Editor's Note: Members of the media have full permission to reproduce the article and infographic linked above once credit is given to InternationalLiving.com.
Media Contact: For information about InternationalLiving.com content republishing, available source material or to book an interview for radio, TV or print with one of our experts, contact Associate Editor Carol Barron, 772-678-0287 (US), CBarron@InternationalLiving.com or visit the Media Center.
For 35 years, InternationalLiving.com has been the leading authority for anyone looking for global retirement or relocation opportunities. Through its monthly magazine and related e-letters, extensive website, podcasts, online bookstore, and events held around the world, InternationalLiving.com provides information and services to help its readers live better, travel farther, have more fun, save more money, and find better business opportunities when they expand their world beyond their own shores. InternationalLiving.com has more than 200 correspondents traveling the globe, investigating the best opportunities for travel, retirement, real estate, and investment.