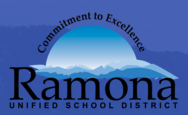 (PRWEB) March 15, 2016
Ramona Unified School District, located roughly 30 miles northeast of San Diego, serves a student population of 5,700 students. Their mission is simple and honest, "preparing today's learners for tomorrow's world!" Applying that mission internally, Ramona USD is preparing for a paperless tomorrow by taking steps toward automated Online Student Registration with seamless student database integration.
Registration Gateway isn't simply a cutting edge online enrollment system. Registration Gateway paired with Level Data delivers a process designed to improve and streamline Ramona USD's student data collection. Registration Gateway's implementation at Ramona USD has shown immense return on investment.
"When we talk about return on investment for Ramona USD, we're not just talking dollars here, although plenty of that has been saved in the process. We are also talking about valuable staff time and effort, as well as simplicity, consistency, and reliability on the part of the students' parents and guardians." said Patrick Maher, CEO of SRC Solutions, Inc.
"Registration Gateway allowed parents to pre-register their kids online before ever visiting a school site; minimizing the amount of required paperwork and the overall time spent with the school site registrar. In the first six months over 1,000 new student registrations were completed online and added to Ramona's PowerSchool Student Information System" said Danielle Shaw Information Systems Specialist at Ramona USD.
Online Registration with Registration Gateway provides clean data for state reporting, requiring minimal to no oversight on the part of the administration.
"The elimination of lengthy paper packets has indeed been able to cut costs. Printing and postage can rack up a lot of expenses. Registration Gateway provides us better visibility into our future kindergarten enrollment much earlier in the process allowing class sizes to be maintained. The ability to restrict street address entry to district only addresses has been a big difference for us. This saves significant time with our Direct Certification Process and was something we didn't see from any other Online Registration provider" said Shaw.
While Level Data and Registration Gateway are two separate solutions, their solutions pair well providing additional benefits to school districts. Level Data provides additional student residency and contact validation as part of the overall solution.
"Having Level Data involved as part of the process has been a great benefit to our district." said Shaw.
Registration Gateway and Level Data provide today's learners a seamless registration, today's parents a good first impression of their new school district, and today's school districts with savings that can be focused on "preparing today's learners for tomorrow's world!"