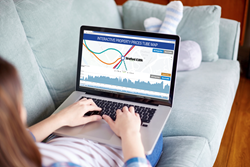 WhatHouse? is proud to introduce our unique analysis of the Land Registry's property price records covering the capital's Tube network
(PRWEB UK) 16 March 2016
Leading new homes property portal Whathouse.com has created an interactive property Tube map of London, an original and innovative piece of content. The data used is taken from the Land Registry to ensure it is reliable and up-to-date, and this information will be updated regularly to reflect actual sold prices.
The map allows users to view the average sold prices of homes around each Tube stop, with the option for users to filter by new builds or all properties. The sold property prices shown are within a 1km radius of each Tube station.
Another customisable aspect with the interactive property prices Tube map is the dates. The date range is extensive, with sold prices going back as far as 1995 offering a really interesting way to see how the value of an area has increased.
The map is both desktop- and mobile-friendly, so it can be checked it whenever and wherever needed.
Keith Osborne, editor of whathouse.com, says: "Property prices are an ongoing fascination for many of us, and particularly with savvy homebuyers in a market as strong as the one in London.
"With our long heritage in promoting the benefits of buying a new build home, WhatHouse? is proud to introduce our unique analysis of the Land Registry's property price records covering the capital's Tube network.
"As it updates every month, we're sure this property map will be a regular talking point and an essential tool for house-hunters in London and the South East, as well as our property industry colleagues."
An embed code for the interactive map can be found on http://contenthub.whathouse.com/underground-property-map/
Find out more about the WhatHouse? interactive property prices Tube map from Isabelle Grange (ig(at)whathouse(dot)com).
ENDS
WhatHouse? is the UK's most trusted new homes brand, promoted through the whathouse.com website and its monthly property newspapers.
The WhatHouse? Awards are the 'Oscars' of the housebuilding industry, now in their 35th year and considered the most prestigious awards for new homes in the UK
For more information on WhatHouse? newspapers please contact Adrian Talbot at(at)globespanmedia(dot)com or call 020 7940 1070
For more information on entering the WhatHouse? Awards 2016 and attending the Gala Luncheon please email Derek Smith at ds(at)globespanmedia(dot)com or call 020 7940 1070.
For more information on sponsorship packages for the WhatHouse? Awards 2016 please email Adrian Talbot at at(at)globespanmedia(dot)com or call 020 7940 1070.