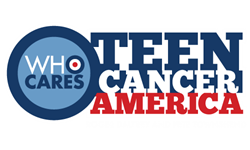 The money raised by STA Travel will go towards helping with the development of specialized facilities and services for young people with cancer.
Chandler, Arizona (PRWEB) March 14, 2016
STA Travel has announced a new partnership with Teen Cancer America to raise funds and awareness of the valuable work it does to support young people with cancer. It's part of a world-first global partnership that connects organizations helping young people affected by cancer worldwide, including Teen Cancer America, Teenage Cancer Trust in the UK, CanTeen Australia and CanTeen New Zealand.
Throughout 2016, STA Travel will raise money for Teen Cancer America through a number of staff and consumer fundraising activities, including giving travelers the opportunity to donate $2 to their booking in-store.
STA Travel Chief Executive Officer John Constable said: "We are thrilled to be supporting Teen Cancer America. The sad reality is that cancer affects many teenagers around the world, and as the world's largest youth-based travel company it touches many of our customers and people worldwide. We send more than two million young people on life-changing trips every year, but there are thousands that mill out due to illness. The work of the organizations that we've aligned with is vital and we're delighted to launch this world first global partnership. We hope our fundraising efforts will go some way to help Teen Cancer America provide the best possible care and support to the young people diagnosed."
Almost 12,000 young people between the ages of 13 and 25 are diagnosed with cancer each year – that is more than 30 every day, more than one every hour. The money raised by STA Travel will go towards helping with the development of specialized facilities and services for young people with cancer.
Peyton, aged 17, turned to Teen Cancer America when she was battling cancer. "The Teen Cancer America lounge was so helpful to me during treatment because it was a beautiful distraction; there was nothing to remind me constantly of the nauseating pain of chemo and I was actually able to hang out with people I could relate to. I was actually able to eat there because I didn't associate this room with a typical hospital room and it didn't make me feel sick."
Simon Davies, Executive Director of Teen Cancer America said: "As Teen Cancer America relied on the wisdom of its UK inspiration, Teenage Cancer Trust, I believe that exciting collaborations like this one led by STA Travel will propagate ideas and valuable information vital to the advancement of our collective goal to help young adults overcome and ultimately out-live cancer. It is STA Travel's novel approach to empowering youthful enthusiasm for adventure that brings us together in this remarkable new way and with great promise and enthusiasm."
Teen Cancer America relies on donations to fund its important work. Find out more, get involved or make a donation at: http://www.statravel.com/teen-cancer-america.htm
###
Contacts:
STA Travel – tiffany.harrison(at)statravel(dot)com | 480-592-0868 EXT. 22431
Teen Cancer America – Lee, Everett, LaunchPad PR, lee(at)launchpadpr(dot)com | 1- 310-560-6944
About STA Travel
STA Travel is the world's largest youth travel company. We've been successfully delaying students from entering full-time employment since 1979, and every year we send more than two million passengers on life-changing adventures. Today we have more than 2,000 people in over 200 stores in 11 countries, including Australia, Austria, Germany, Switzerland, Japan, New Zealand, Singapore, South Africa, Thailand, United Kingdom and United States. We also work with franchisees, joint ventures and licensed partners in a further 52 countries.
About Teen Cancer America
Following in the footsteps of the highly developed and successful Teenage Cancer Trust – Teen and Young Adult Cancer Program out of the UK, Teen Cancer America is designed to help hospitals and healthcare professionals bridge the gap between pediatric and adult oncology care. Teen Cancer America aims to educate and support hospitals and outpatient facilities in the development of specialized units for this age group. The units are places just for teens and young adults where the cancer experience is understood and the importance of living life through the cancer journey is nourished. Teen Cancer America's work also supports the coming together of physicians and allied healthcare professionals in both pediatric and adult oncology so that the teen and young adult cancer patient care becomes closer to where it needs to be.