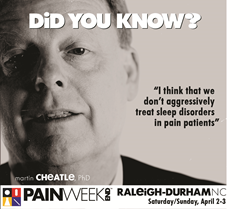 Fresh idea--speakers excellent--best heard in many years.
Montclair, NJ (PRWEB) March 16, 2016
PAINWeekEnd attendees have spoken. "Fresh ideas – speakers excellent –best heard in many years."
PAINWeekEnd Regional Conferences are now in their 6th year. PWE Raleigh on April 2 and 3 will provide busy clinicians and allied healthcare practitioners with relevant, practical instruction in the management of chronic pain. The conference, offering continuing medical/legal and clinical pain education, will take place at the Raleigh Marriott Crabtree Valley, 4500 Marriott Drive.
Each person licensed to practice medicine in the State of North Carolina must complete at least 60 hours of Category 1 CME every 3 years. By attending PAINWeekEnd Raleigh, participants can receive 12.0 CE/CME credit hours as they enhance their skills in medication risk evaluation and mitigation, pain assessment and diagnosis, and delivery of individualized multimodal treatment. Course topics include chronic pain assessment; when acute pain becomes chronic; assessing and managing acute and chronic low back pain; diagnosis and management of central pain; complex regional pain syndromes; migraines; clinical laboratory fee schedule and medical record documentation; critical pain management practice issues; risk assessment; the difficult pain patient; chronic pain coping skills; and decreasing and managing medication aberrant behavior. In addition, there will be commercially supported activities addressing a range of product, disease state, and medical information topics.
To see the complete agenda and more information about this or other PAINWeekEnd Regional Conference, go to painweekend.org.
The online registration fee for this PAINWeekEnd Conference is $199. PAINWeekEnd registrants are further offered the opportunity to register for the 2016 PAINWeek National Conference, September 6-10, in Las Vegas, for $199 off the current online published price.
PAINWeekEnd is provided by Global Education Group.