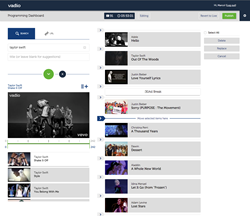 Publishers can dramatically increase audience engagement with curated video channels versus requiring users to hunt and peck through a vast number of choices
PORTLAND, OR (PRWEB) March 15, 2016
Vadio, the leading customizable music video streaming platform for media companies and brands, today announced the availability of ChannelBuilder, new functionality that makes it easy to build and launch highly-curated music video streaming experiences. This new console enables fine-tuned curation of syndicated and owned videos plus advertising breaks so publishers can easily launch and monetize highly-engaging streaming music video channels embedded in their web sites or apps.
Curation Increases Engagement
A rapidly growing trend for streaming services and publishers with large audiences is to offer video channels that provide engaging experiences to consumers and introduce new monetization opportunities. Early Vadio Channel implementations have resulted in an exponential increase in engagement -- one partner experienced a spike in video views of 3000 percent. This new ChannelBuilder capability makes it incredibly easy to curate a complete music video channel from a syndicated library of hundreds of thousands of videos to match the specific editorial coverage of the publisher or to add channels based on new music releases, artist news, relevant themes or genres, or upcoming tours.
"The data shows that publishers can dramatically increase audience engagement with curated video channels versus requiring users to hunt and peck through a vast number of choices," said Elliot Swan, Vadio's co-founder and Chief Product Officer. "Curation enables so many possibilities to engage people in the places that they are already visiting. This exciting new interface lays the groundwork for a variety of evolved curation capabilities we'll be offering."
Control New Opportunities for Monetization
Through one interface, ChannelBuilder puts the publisher in control of the monetization opportunity as well. ChannelBuilder not only enables the detailed curation of syndicated and directly owned video content, but also the timing, variety, and duration of ad breaks. Digital video advertising sells at a premium CPM, so fine-tuning the ad breaks by leveraging analytics and being able to easily optimize scheduling in the ChannelBuilder results in maximum monetization.
"At Possible, we've built our agency on the idea of testing what works and what doesn't based on data. This new granular level of curation and control from Vadio creates an incredible test lab to figure out the timing, format, and duration of the optimal ad break and content programing for music video channels, and we are excited about the potential of Vadio's new platform for brands," says John Simpson, Global CMO Possible.
More information about the new ChannelBuilder is available here: http://www.vadio.com/solutions
About Vadio
Vadio is bringing music videos to everyone, everywhere. By partnering with the music industry, premium media properties, and top brands, Vadio is powering over 80 streaming music video channels across top web destinations and apps today. Vadio has a turnkey streaming music video platform that can be customized, curated and optimized to drive massive lift in consumer engagement and monetization for media companies and brands.
More information available at Vadio.com, or follow us on twitter @wearevadio
Contact:
Melissa Hourigan
Fabric Media for Vadio
720-988-3856
Melissa(at)fabricmedia(dot)net