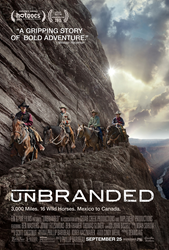 The trip was one of epic adventure and epic woes
Cody, Wyoming (PRWEB) March 17, 2016
In 2013, four Texas cowboys led by Ben Masters hatched an outrageous plan to adopt, train, and ride a string of wild mustangs 3,000 miles from Mexico to Canada across the backbone of the American West, the Rocky Mountains. Their story became the feature-length documentary "Unbranded," and the Buffalo Bill Center of the West invites area residents to a screening of the film with its April 15 "dinner and a movie."
Doors open at 6 p.m. with an autograph session by the evening's host, popular cowboy poet, songster, and horseman Val Geissler who had an instrumental role in the movie's production. He'll sign copies of the Unbranded DVD and book, plus Border to Border, his own CD of favorite cowboy tunes and the title track to the movie—all of which are available for purchase at the Museum Store. A cash bar is available, and at 6:30, the Center serves a western buffet with all the fixings, followed by the movie showing in the Center's Coe Auditorium, including Geissler's introduction.
"Unbranded surpassed my biggest expectations," said film "mastermind" Ben Masters. "The film team did a wonderful job." When Masters approached Geissler for help with his idea to generate awareness about wild mustangs, the elder cowboy replied, "Well son, there ain't nothing we can't do and damn little we won't try." According to Masters, Geissler's "we" response meant that "he had no intentions of being left out of such an adventure."
It wasn't long before Cody, Wyoming's, favorite cowboy, Val Geissler, became one of the Unbranded team's favorites, too. "[Val] gave us four months of his life, his personal horses, countless dollars in expenses, hard won experience, and only asked for one thing: to continue his love of backcountry horsemanship," Masters observed. "We could've searched the entire world and couldn't have found a more perfect individual to help us through the journey, film, and life in general."
The trip was one of epic adventure and epic woes, and has already won numerous awards at film festivals in Crested Butte, Banff, Jackson Hole, Wichita, Telluride, and Toronto, among others.
The cost is $25 per person, and advance reservations are required as seating is limited. Contact Custom Events Manager, Josie Hedderman, at josieh(at)centerofthewest(dot)org, or 307-578-4000.
Don't miss out: Stay apprised of all Center of the West activities and programs at centerofthewest.org.
__________________________________________________________________________________________________________________________________________
Since 1917, the award-winning Buffalo Bill Center of the West in Cody, Wyoming, has devoted itself to sharing the story of the authentic American West. The Center, an affiliate of the Smithsonian Institution, is currently operating its spring schedule, open 10 a.m. – 5 p.m. daily. For additional information, visit the Center's website or its pages on Facebook and Google+.
(All images courtesy Ben Masters.)