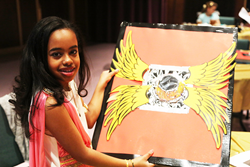 "Excellence is never an accident. It is always the result of high intention, sincere effort, and intelligent execution." Aristotle
Annandale, Virginia (PRWEB) March 16, 2016
In January, the World Economic Forum (WEF) predicted the elimination of 5 million jobs worldwide due in large part to the recent tidal wave of new technology. Advances are creating new labor demands while sweeping away traditional paths to job security. Understandably, parents are concerned: How can they help their children prepare for success in the shifting workplace of the future? Westminster School, a moderately priced, K-8 independent school in Fairfax County, Virginia, offers a solution: Because of its emphasis on thinking skills, problem solving, creativity, and communication, classical education provides students the essential skills needed to adapt to workplace changes and succeed in those jobs that are emerging as winners. These include not only the STEM professions, but also information and communication fields, professional services such as education and health care, and media and information specialists.
In The New Division of Labor: How Computers are Creating the Next Job Market, Levy and Murnane assert the value of two categories of skills: "expert thinking—solving new problems for which there are no routine answers" and "complex communication—persuading, explaining, and interpreting information." While this offers hope, parents may wonder how to ensure that their children become good thinkers and communicators. Interestingly, the skills highlighted by Levy and Murnane essentially define the goals of classical education, which emphasizes mastery of the basic skills and tools of learning, ultimately preparing students to use reason and creativity to solve unfamiliar problems. Classical education's emphasis on language and literature also strengthens the ability to articulate and communicate. https://youtu.be/7T_kxpcFlNY The combined ability to think clearly and communicate effectively is a one-two knock-out punch when it comes to professional success. Businesses, including tech, engineering, and biomedical research companies, are hungry for employees with a strong work ethic who are broadly educated and who can learn quickly, think creatively, and communicate clearly and persuasively.
These days, the surest path to job security seems to be a career in STEM, and many parents are eager for their children to excel in these areas. At Westminster School, 13% of its 2015 8th-grade graduates were admitted to one of the nation's most highly regarded high-schools for science and technology. Facing fierce competition from hundreds of math and science-loving applicants, what set these classically educated students apart? According to Divya, her admission essays made the difference: "I've always had an interest in STEM, but I had to be able to express that, so the writing skills that I gained in English and history class definitely paid off." Avery's father put it this way: "As the world gets more and more into social media and communicating in really short ways, being able to write articulately and communicate your thoughts is a rarity and therefore a refreshing and important skill to have." The challenge and rigor of a classical education pays off in other ways that lead to success in school and work, according to Rhea's dad: "Focus, discipline, and passion are basic qualities you need . . . and having an old-fashioned work ethic is key."
Classical education is a powerful, time-tested approach used to train some of the greatest thinkers and innovators of the world, from Leonardo da Vinci to Isaac Newton, from Dante and Shakespeare to Rousseau and Thoreau. Thomas Jefferson, John Adams, George Washington, and Benjamin Franklin were all classically educated. Parents concerned about their children's employment prospects in "the fourth industrial revolution" may be wise to look to the past—and classical education—to prepare for the future.
To learn more about classical education in a forward-thinking environment, visit http://www.westminsterschool.com.