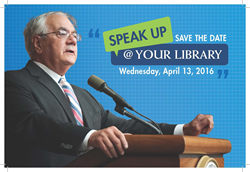 This event is an opportunity to create awareness of the power of libraries," said Terry Kirchner, WLS executive director. "The storytelling project helps us promote what libraries can do and what we can do working together.
Tarrytown, NY (PRWEB) March 16, 2016
The Westchester Library System will highlight the many ways the County's 38 public libraries influence their patron's lives at the 2016 Annual Breakfast on Wednesday, April 13, 2016 at Abigail Kirsch at Tappan Hill Mansion, Tarrytown, NY. Not afraid to speak up in his political career, Barney Frank, former Massachusetts Congressman and fierce defender of civil liberties, will be the guest speaker. Individual tickets are $80 and are available online at westchesterlibraries.org.
This year's theme, Speak-Up @ Your Library, is part of a system-wide marketing campaign funded through a grant from the Westchester Community Foundation. The campaign focuses on promoting library awareness through individual compelling patron stories. Those stories will serve as the focal point for the event. Libraries are invited to submit a compelling story for publication and display at the April 13th Breakfast. Six stories will be chosen to be professionally videotaped for a public service campaign that will be used to encourage county-wide library card sign-up. Currently nearly 50% of Westchester residents have a library card.
Barney Frank, who served in the U.S. House of Representatives from 1981 to 2013, is no stranger to storytelling. His memoir, Frank: A life in Politics from the Great Society to Same Sex Marriage, reflects on his momentous career. A Washingtonian survey rated him the "smartest, funniest, and most eloquent member of Congress." Copies of his book will be available for sale at the event and are currently available for lending through your local library.
The Annual Celebrating Westchester Libraries Breakfast is WLS' only fund raising event. Proceeds from the event support the collective efforts of libraries to provide a rich variety of experiences for their patrons, from active learning programs, to new technologies, to the latest best sellers and the most current, reliable information on any topic. In addition to tickets, sponsorships are also available online at westchesterlibraries.org.