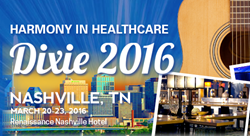 AppRev: Gain confidence in your hospital revenue cycle.
Temple, Texas (PRWEB) March 15, 2016
HFMA Region 5's Annual Dixie Institute brings together chapters from five states: Tennessee, South Carolina, Georgia, Florida and Alabama. The Dixie Institute reflects the national Healthcare Financial Management Association's commitment to provide educational opportunities for its members' personal and professional development.
In addition to being a Silver Sponsor, AppRev continues to show its support of the Dixie Institute by sponsoring the Past President's Dinner on March 22, 2016. AppRev President and CEO, Seth Avery, will attend this year's institute.
Mr. Avery will also be the moderator of the educational panel "ICD-10 Post Implementation Discussion" on March 21, 2016. He and panelists from multiple healthcare backgrounds will discuss how the ICD-10 transition has affected hospitals and providers at a financial and service level.
Panelists include Diane Story, Director of Revenue Cycle Improvement at Roper St. Francis; Michele Tynes Napier, Chief Reimbursement Officer at Mercy Health; Debra Wierciak, Executive Director of Revenue Cycle Management at BJC HealthCare; George Vancore, Senior Manager of Delivery Systems at Blue Cross Blue Shield of Florida; and Fletcher Lance, Managing Director and Global Healthcare Lead at North Highland Worldwide Consulting.
"We're looking forward to participating in another great Dixie Institute. From sponsorships to speaking, we're proud to be a part of this comprehensive educational organization," said Mr. Avery.
During the ICD-10 panel discussion, AppRev will also reveal the results of its Post ICD-10 Implementation Study, in which data submitted by several hospitals from around the United States has been analyzed to compare the last three months of operation under ICD-9 to the first three months under ICD-10. The study will utilize key metrics and denials data to evaluate the results.
AppRev is a privately held Healthcare Business Intelligence company based in Temple, Texas, that provides services and technology to more than 80 hospitals throughout the United States and Bermuda. AppRev delivers results through services and technology that allow hospitals and clinics to improve revenue cycle performance. The company's solutions are provided via web delivered Service Supported Software™ and include Charge Accuracy (for hospital charge capture), Denials Intelligence (for claims denial management), Pricing Analytics (for hospital pricing analysis), Pricing Transparency using the Market Advantage Price Lookup Tool (for hospital market comparison), CDM and DSH services. All AppRev solutions employ ongoing measurement of revenue cycle improvements and can be tailored to meet customer-specific requirements.