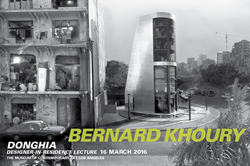 Los Angeles, CA (PRWEB) March 14, 2016
Architect and designer Bernard Khoury, Founder of DW5 in Beruit, Lebanon will present the eight annual Donghia Designer-in-Residency lecture on March 16, 2016, at the Museum of Contemporary Art in Los Angeles. The Donghia Designer-in-Residency is hosted by the Architecture/Landscape/Interiors Department at Otis College of Art and Design and consists of a one-week master class culminating with a public lecture at the Museum of Contemporary Art in Los Angeles.
Bernard Khoury studied architecture at the Rhode Island School of Design (BFA 1990 / B.Arch 1991). He received a Masters of Architecture from Harvard University (M.Arch 1993). In 2001, he was awarded by the municipality of Rome the honorable mention of the Borromini Prize given to architects under forty years of age. In 2004, he was awarded the Architecture + Award. He is the co-founder of the Arab Center for Architecture.
Bernard Khoury has been a visiting professor at the École Polytechnique Fédérale de Lausanne, École Spéciale d'Architecture in Paris, and the American University of Beirut. He has lectured and exhibited his work at prestigious academic institutions in Europe and the U.S., including a solo show of his work hosted by the International Forum for Contemporary Architecture at the Aedes Gallery in Berlin (2003). Khoury's work has also been included in numerous group shows, including YOUprison at the Fondazione Sandretto Re Rebaudengo in Turin (2008) and Spazio at the opening show of the MAXXI Museum in Rome (2010).
Mr. Khoury was the co-curator and architect of the Kingdom of Bahrain's National Pavilion at the Venice Biennale's 14th International Architecture Exhibition in 2014. His work has been extensively published. Khoury started an independent practice, Bernard Khoury / DW5, in 1993. Within the past fifteen years, his office has developed an international reputation and a significant portfolio of diverse projects both locally and abroad.
LECTURE DETAILS
Donghia Designer-in-Residence Lecture by Bernard Khoury
March 16, 2016, 7:30 PM
Museum of Contemporary Art, Los Angeles - Ahmanson Auditorium
250 South Grand Avenue, Los Angeles, CA 90012
Open seating begins at 7:00 PM, Reception will follow the lecture. This lecture and reception are free and open to the public.
Reservations are recommended, as seating is limited to 150. Call 310.665.6867 or email mherrera@otis.edu to reserve a seat(s).
The Donghia Designer-in-Residency was made possible through a generous grant from the Angelo Donghia Foundation, which provides support for the advancement of education in the field of interior design, and for the investigation and treatment of AIDS and its related diseases.
The Residency was organized by the Architecture/Landscape/Interiors Department at Otis College of Art and Design. For information about the lecture or department call 310.665.6867, email ArchitectureLandscapeInteriors@otis.edu or visit http://www.otis.edu/ali.
ABOUT ARCHITECTURE / LANDSCAPE / INTERIORS DEPARTMENT
Architecture/Landscape/Interiors (A/L/I) seeks to contribute to the emergence of imaginative contemporary practices through a synthetic curriculum of the spatial design fields: architecture (buildings), landscape (spaces between buildings), and interiors (spaces within buildings). Additional information is available at http://www.otis.edu/architecture-landscape-interiors.
ABOUT OTIS COLLEGE OF ART AND DESIGN
Established in 1918, Otis College of Art and Design is a national leader in art and design education. The College mission is to prepare diverse students of art and design to enrich our world through their creativity, skill, and vision. Alumni and faculty are Fulbright, MacArthur, and Guggenheim grant recipients, Oscar awardees, legendary costume designers, leaders of contemporary art movements, and design stars at Apple, Anthropologie, Patagonia, Adobe, Pixar, DreamWorks, Mattel, Nike, and Disney.
Otis enrolls approximately 1,100 full-time students, and offers Bachelor of Fine Arts degrees in Architecture/Landscape/Interiors, Digital Media (Game and Entertainment Design, Animation, and Motion Design), Fashion Design, Communication Arts (Graphic Design, Illustration, and Advertising Design), Fine Arts (Painting, Photography, and Sculpture/New Genres), Product Design, and Toy Design. Otis also awards the Master of Fine Arts degree in Fine Arts, Graphic Design, Public Practice, and Writing.
The five-acre main campus is located on L.A.'s Westside near the beach and LAX; the Graduate Studios are in nearby Culver City and at the 18th Street Arts Center in Santa Monica.
2,700 adults and children participate in Continuing Education art and design classes and workshops.
Additional information is available at http://www.otis.edu.