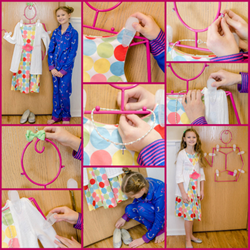 There is nothing on the market like it!
Madison, WI (PRWEB) March 16, 2016
"Tomorrow's Outfit", the one-of-a-kind adjustable fashion planner for girls, is pleased to announce its launch.
"Tomorrow's Outfit" is designed to enable girls, tween or teen, to plan an entire outfit with accessories, offering empowerment, inspiration and confidence building. Girls love to plan their entire outfit with accessories for the next day and "Tomorrow's Outfit" is the best tool. Clothes are secured to the hanging planner with clear, durable fashion clips. And its unique design allows for simple adjustments, so it always matches her height for easy outfit planning.
Good habits are nurtured and planning ahead is encouraged with this amazing tool. The daily morning hustle of deciding what to wear in a few minutes is effectively addressed. Planning ahead reduces stress and makes outfit selection a creative and pleasant process. At the same time cute outfits for school and other activities are kept wrinkle-free.
As Barbara Klermund, President and Owner at "Tomorrow's Outfit", emphasizes, "There is nothing on the market like it! This revolutionary approach to outfit planning empowers girls to be creative and take ownership in their own style no matter what their shape or size. It is a pleasure to share my invention with you. Who knows, we could be starting an outfit planning revolution!"
Now, this promising startup is looking to raise funds for its production and development via popular Kickstarter. Potential funders will benefit from huge discounts and early bird promotions ranging from $65 for one "Tomorrow's Outfit" kit to $325 for four (4) kits, when the expected retail price is $95. Backers can also show their support by sharing the campaign with their Social Media networks (Facebook, Twitter, LinkedIn, Instagram, etc.)
For further information and to claim your perk visit https://www.kickstarter.com/projects/511509590/tomorrows-outfit-a-unique-adjustable-fashion-plann today.
"Tomorrow's Outfit", based in Madison, WI, is a startup founded by Barbara Klermund. The company aims at developing the one-of-a-kind expandable outfit planner for girls, the only tool that grows with her and always matches her height. http://www.tomorrowsoutfit.com