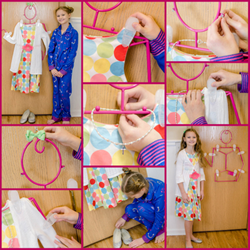 It is definitely the perfect photography prop to display all of the latest outfits and new arrivals for your social media posts and website e-commerce
Madison, WI (PRWEB) March 17, 2016
Clothing retailers and boutiques now have the best solution for in-store merchandising display, or as prop for online stores advertisements: the amazing adjustable fashion planner, Tomorrow's Outfit.
Tomorrow's Outfit enables customers to see the entire outfit with accessories at their height, allowing them to visualize the complete look. A great solution for merchants as it takes up less valuable retail space than a mannequin, giving more room for merchandise. It is definitely less expensive than a mannequin and allows retailers to quickly and easily switch out displayed merchandise. Moreover, this great tool allows for simple adjustments so merchants can display a variety of clothing sizes at the appropriate height.
Tomorrow's Outfit is designed and produced with the highest standards. Clothes are secured to the hanging planner with clear, durable fashion clips and four stabilizer feet with rubber caps protect walls and showcases. This unique adjustable fashion planner is constructed from superior quality 1/4 inch solid steel, and rigid tubing. An unbendable and unbreakable, during normal use, tool.
Barbara Klermund, President and Owner at Tomorrow's Outfit, LLC, notes an additional advantage, "It is definitely the perfect photography prop to display all of the latest outfits and new arrivals for your social media posts and website e-commerce."
At the same time, Tomorrow's Outfit turns to popular crowdfunding to raise funds for its production. Retailers are offered large discounts to place their orders.
Claim your perks today at http://kck.st/1pmbw9M
About
Tomorrow's Outfit LLC is a promising US startup founded by Barbara Klermund in 2015. The company aims at developing the one-of-a-kind expandable outfit planner suitable for clothing retailers and boutiques http://www.tomorrowsoutfit.com