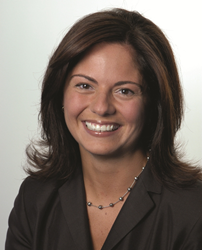 I am looking forward to working more closely with each of them to develop their practices while expanding and enhancing the litigation services the firm can provide nationwide
New Haven, CT (PRWEB) March 15, 2016
National law firm LeClairRyan today announced that shareholder Elizabeth K. Acee has been named Litigation Department Leader, effective March 11. She is resident in the firm's New Haven, Conn. office.
"Lizz embodies the best of LeClairRyan's cultural ideals in both internal and external client service and in her contributions to the firm and our communities," says LeClairRyan Chief Executive Officer C. Erik Gustafson. "She delivers the highest caliber legal skills, is an exceptionally responsive communicator, and shows exemplary enthusiasm in her interpersonal interactions with colleagues and clients. I am confident Lizz will make significant contributions to the firm and to the success of the litigation department."
In her role as Litigation Department Leader, Acee will be responsible for managing growth opportunities and client service initiatives, while overseeing the practice area, industry and client teams within the more than 300-lawyer department. She will also focus on the execution of a number of strategic initiatives that impact the litigation team. "LeClairRyan's litigation team is comprised of talented attorneys and professional staff in myriad practices across the country," says Acee. "I am looking forward to working more closely with each of them to develop their practices while expanding and enhancing the litigation services the firm can provide nationwide."
Primarily a member of the labor and employment team, Acee also has substantial experience in business litigation matters across a variety of industries including, healthcare, biotech, entertainment, and aviation. She has been consistently recognized for her practice, including being named a Connecticut Super Lawyer; featured by the Connecticut Law Tribune as one of Connecticut's outstanding women attorneys; and recognized for her service as a New Leader in the Law by the Connecticut Bar Association. At the national level, she was recognized as a Star of the Year by the American Bar Association. She has held several leadership roles, such as serving as Chair of the ABA's Young Lawyers Division, Chair of the Connecticut Bar Association's Young Lawyers Section, and Assistant Secretary-Treasurer of the Connecticut Bar Association. She also teaches an advanced trial practice course at Yale Law School. Acee will continue to maintain an active litigation practice.
About LeClairRyan
As a trusted advisor, LeClairRyan provides business counsel and client representation in corporate law and litigation. In this role, the firm applies its knowledge, insight and skill to help clients achieve their business objectives while managing and minimizing their legal risks, difficulties and expenses. With offices in California, Connecticut, Delaware, Georgia, Maryland, Massachusetts, Michigan, Nevada, New Jersey, New York, Pennsylvania, Texas, Virginia and Washington, D.C., the firm has approximately 390 attorneys representing a wide variety of clients throughout the nation. For more information about LeClairRyan, visit http://www.leclairryan.com.