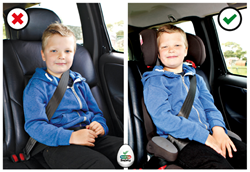 (PRWEB UK) 15 March 2016
A shocking 34 per cent of 8 to 11-year olds in the UK are not using a booster seat on car journeys when one is required, according to a new report by Good Egg Safety.
Current UK law requires all children under 12 or less than 135cm in height to use a booster seat.
The organisation's annual checking events in 2015 revealed that out of a sample of 2,351 children (aged 0 – 11 years), 598 were in a booster seat and 82 were using an adult seat belt. Out of the 102 checks made in the older children's category (aged 8 – 11 years), 34% of them were travelling using just an adult seat belt, when a booster seat was legally required.
It is thought that this lack of regard for safety and the law, may partially be a result of children aged eight and above not wanting to use a booster seat as anecdotal feedback from parents suggests they are being pressured by their youngsters who don't think it's 'cool' to use them.
Today, Good Egg Safety – the organisation geared towards making families of all ages safer outside and inside the home – has warned of the potentially fatal dangers of older children not using a booster.
Jan James Good Egg Safety Chief, said: "We are very concerned about the results showing that a third of older children are not using a suitable booster seat. Not only is it a legal requirement for children to use a booster until they are 12 years old or 135cm, but equally importantly seat belts are designed for adult use and are not suited to a child's anatomy.
"A booster lifts a child up high enough that the adult seat belt fits across their hips and chest safely. If older children do not use a booster and are too small for the seat belt, the belt can cause very serious – or even fatal – injuries."
Across the total 680 children checked, an alarming 79 children (aged 2 – 11 years) were found not to be in car seat at all but required one and 67 children (aged 2-11 years) were in a seat that they were too small for. Of the 93 children (aged 2 -3 years) more than half of them were in the wrong seat for their age, weight or height.
Statistics from the Department for Transport show that there is an increase in the number of children being killed or seriously injured in collisions – as well as sustaining minor injuries – once they reach the older 8 to 11 category. In 2014, there were 2,040 casualties among 8- to 11-year olds, compared to 1,553 among 5 to 7-year olds. Casualties among children (aged 8 – 11 years) make up almost half of all injuries among those under the age of 12.
Using a booster seat provides older children with crucial protection. Parents have been advised to invest in a high-back booster seat for extra protection for older children, rather than a booster cushion.
Sarah-Jane Martin, spokesperson for Brake, the road safety charity said: "These figures are very worrying and show that we're not taking child car seat safety seriously enough. It's vital that all parents understand that it's not just toddlers who need protecting. We're supporting Good Egg Safety with this important awareness raising campaign and ask all parents to ensure that their child has the appropriate safety seat fitted."
Honor Byford, Chair of Road Safety GB, the charity that supports road safety professionals, said: "We know that every parent's strongest instinct is to protect their children. The legislation on booster seats changed to ensure that booster seats provide the level of protection that children's smaller bodies need in the event of a crash. This keeps them on a booster seat for longer than used to be the case. We urge parents to check out the legal requirements and keep their children on the right booster seat for as long as their child needs that extra protection – which is until they are tall enough for an adult seatbelt to fit their body.
Good Egg provides excellent, clear information and advice to help parents, grandparents and carers to provide the best protection for their children when they are travelling by car.
Your local road safety team will also be pleased to help and advise you on this or any road safety matter. You can find their contact details through the Road Safety GB website"
Kat Furlong Good Egg Safety Manager and Training Expert added: "A high-back booster is far more preferable to a booster cushion, to provide children with adequate head, neck and torso protection from side impacts, which booster cushions do not offer. We implore parents to buy these instead and ensure they are the right seat for their child and car"
The Good Egg Safety checks also showed that a high number of booster seats – both high-back models and cushions – were being used unsafely. In many instances, the seat belt was not routed properly around the child and seat, which would drastically reduce the seat's effectiveness in a collision.
Mark Bennett, Senior Technical and Training Manager Europe, Britax said
"It's imperative that older children do use the correct restraint system when travelling in a car until they no longer need so – when they're 135cm tall or 12 years old whichever comes sooner. High-back booster seats will not only guide and control the position of the adult seat belt correctly over the child's pelvis and shoulder but it will also give the much needed side and head protection in a road accident. As Britax we will continue campaigning on the safety benefits of high-back boosters and help save lives."
For more information on booster seats, visit http://www.goodeggcarsafety.com/blog/goodmorningbritain
Notes to editors
For further media information, please contact 07980 851360 / 01234 834 581
Jan James Chief Executive is available for media interviews. Good Egg Safety Stage 2-3 report available on request.
1. Good Egg Safety, http://www.goodeggsafety.com, campaigns to help keep families safer. Good Egg provides information on safe driving for new and older motorists, family cycling, in-car child safety, and in-home child safety.
2. For a copy of this latest report contact enquiries(at)goodeggsafety(dot)com
3. Source : Department for Transport statistics
RAS30028 - Reported casualties by age, road user type and severity, Great Britain, 2014
https://www.gov.uk/government/publications/reported-road-casualties-great-britain-annual-report-2014
4. Brake, The Road Safety Charity - http://www.brake.org.uk
5. Road Safety GB – http://www.roadsafetygb.org.uk
6. Pictures explained:
No Booster
The child in this picture is not using a booster seat. While many will think he is OK like this, and is protected because he is wearing the seat belt, he is actually at very high risk of serious or fatal injuries. The chest part of the seat belt is high up on his neck, and the lap belt is up by his abdomen. There are many risks associated with incorrect seat belt positioning:
a. The child is more likely to put the belt under their arm, or behind them, greatly reducing protection.
b. Children will slouch forward so their knee's bend over the edge of the seat, for comfort – this allows the lap belt to ride high up on their tummy.
c. A lap belt that is too high can cause the child to submarine underneath the seat belt in a collision.
d. A high lap belt can cause very serious internal injury to the abdomen, which could rupture internal organs.
7. Booster Seat
In this image the child is using a properly adjusted high back booster seat. The booster has lifted him up enough to allow the adult belt to sit safely across his hips, and the chest belt is running from his hip to his shoulder – the correct positioning.
In a collision, the adult seat belt will now be able to work properly to protect the child. We always recommend a high back booster over a cushion as it offers better chest belt routing, along with side impact protection.