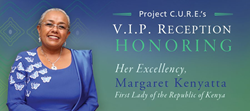 Tempe, AZ (PRWEB) March 14, 2016
KENYA'S FIRST LADY TO VISIT SCNM FOR PROJECT C.U.R.E.'S VIP RECEPTION
WHAT:
The Southwest College of Naturopathic Medicine (SCNM) will host a VIP reception to welcome Her Excellency Margaret Kenyatta, First Lady of Kenya, as a part of Project C.U.R.E.'s exclusive event. This event will be held in conjunction with the 2016 First Ladies Luncheon, which will offer support to deliver much-needed medical relief to the people of Kenya.
WHEN:
Thursday, March 17, 2016 – 6:00 to 8:00 p.m.
WHERE:
Southwest College of Naturopathic Medicine, 2152 E. Broadway Rd., Tempe, AZ 85282
Community Commons -- Follow signs
WHO:
SCNM is sponsoring a VIP reception where Her Excellency Margaret Kenyatta and Event Chair Mrs. Cindy McCain will join VIP guests of both Project C.U.R.E. and SCNM to kick off the First Ladies Initiative. This initiative will help raise awareness of global healthcare needs—particularly those in Kenya. Her Excellency Margaret Kenyatta will work with Project C.U.R.E. to select healthcare facilities where the supplies and equipment are most needed in her country.
WHY:
This fundraising initiative is projected to deliver more than $2 million in desperately needed medical relief to vulnerable communities in Kenya, and 100 percent of all funds raised will be committed to improving maternal and child health, as well as decreasing maternal mortality (the second leading cause of death in the country).
Established in 2006, Project C.U.R.E.'s First Ladies Luncheon is a major fundraising event that helps showcase the humanitarian efforts of First Ladies from around the world. This annual event has resulted in the delivery of more than $17 million in medical relief to developing countries.
ADDITIONAL DETAILS:
The VIP reception will feature entertainment by the Kawambe Omowale African Drum and Dance Theater, as well as Iyanifa Marilyn Adeokantomi Akoda Torres-Sierra, an ordained traditional storyteller, who will share traditional folktales, stories and songs with origins spanning across the African continent.
CONTACT:
Before Event – Jill Roig, 480-222-9224 (office)
Day of Event Contact 1 – Jill Roig, 480-222-9224 (office); 215-498-6677 (cell)
Day of Event Contact 2 – Jesse Carrie, 602-930-2393 (cell)
The Southwest College of Naturopathic Medicine (SCNM) trains future physicians to focus on prevention, wellness and lifestyle changes, which addresses the root cause of the majority of the problems plaguing Americans. Located in Tempe, and founded in 1993, SCNM is an accredited higher-learning institution offering a four-year medical program. Adjacent to the college, the SCNM Medical Center is the largest naturopathic medical center in the Southwest and offers family and primary care using integrative modalities such as acupuncture, homeopathy, clinical nutrition, botanical medicine, manipulation and pharmacology. It has more than 40 doctors and more than 200 student clinicians. For more information, visit http://www.scnm.edu.
###